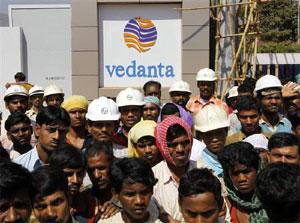 Vedanta Aluminium, controlled by billionaire Anil Agarwal, moved closer to raising its alumina refining capacity by six fold from 1 million tonnes per year (tpy) after villagers near the plant voiced no objection to the expansion.
Most of the nearly 2,000 people present on Wednesday at the public hearing in Biswanathpur village of Odisha state were "OK" with the project to expand the refinery, said B. K. Upadhyaya, the top bureaucrat of the district where the village is located.
Vedanta Aluminium has been struggling to source sufficient bauxite to feed the 1 million tpy alumina refinery since its commissioning in August 2007.
It has been buying bauxite from other states as well as importing more than 1 million tpy of alumina. Plans to mine bauxite in Odisha for the alumina refinery are on hold because of opposition from other nearby communities.
Upadhyaya will now send a report on the Biswanathpur hearing to the state government, which will in turn make its recommendation to the federal government.
Arun Bhatt, a spokesman for Sesa Sterlite, which owns Vedanta Aluminium, declined to give a timeline for the refinery expansion, saying it was linked to "raw material security".
Vedanta's need for alumina, produced by refining bauxite, will nearly triple to 4.5 million tonnes by 2015 as it adds aluminium smelting capacity, managing director Sushil Kumar Roongta told Reuters in October last year.
India's aluminium consumption is likely to rise to 5 million tonnes per year by 2015 from 1.6 million tonnes now, according to the mines ministry.
India's per capita consumption of aluminium is 1.2 kg per year against a world average of 7-8 kg.
Additional reporting by Krishna N Das in New Delhi