This is undoubtedly the highest salary for an Indian non-promoter CEO. Rs 50-crore (Rs 500 million), yes you read it correct! According to the Daily News and Analysis, that is what Kishore Biyani of Future group has offered to V Vaidyanathan to shift base to Future Capital Holdings.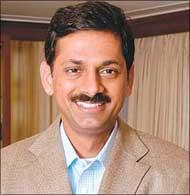 Vaidyanathan, former managing director and CEO of ICICI Prudential Life Insurance, as a sign-on bonus got 20 lakh (2 million) warrants worth Rs 47.40 crore (Rs 474 million), DNA said.
These warrants are convertible into Future Capital shares 18 months from now or February 2012.
The package, said DNA, is Rs 10 crore (Rs 100 million) more than the annual pay cheque of the chairman and managing director of Sun TV, Kalanithi Maran, who was India's highest-paid CEO last year, and twice Mukesh Ambani's annual salary in 2009.
On Monday, Future Capital Holdings allotted him shares at Rs 237 each. He can convert them into equity shares in his own name by paying Rs 237 per share in February 2011 or 18 months from now as a joining bonus.
Vaidyanathan's compensation, as DNA pointed out, is 'a performance-linked booty'. If Future Capital shares rise by even a rupee (from Rs 237), this will add Rs 20 lakh to Vaidyanathan's wealth.
On Monday, the Future Capital shares surged 11.83 per cent to Rs 279.75. It means Rs 85 lakh or Rs 8.5 million (Rs 279.75 - Rs 237 into Rs 20 lakh) has already been added to Vaidyanathan's wealth -- a week before he joins the company on August 10, said DNA.
If the share price falls below Rs 237 after 18 months then it made no sense to convert the warrants into shares.