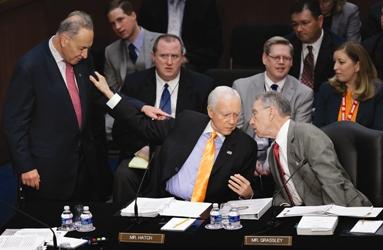 As the Senate Judiciary Committee began its mark-up of the Gang of Eight's comprehensive immigration reform legislation, the United States-India Business Council and India Inc -- led by the Confederation of Indian Industry -- expressed deep concern about what they called 'killer provisions' in the bill that were inimical to the growing US-India 'knowledge partnership.'

Industry sources told India Abroad they wouldn't shed any tears if the legislation died in the House.

The USIBC and India Inc are preparing to launch a massive lobbying effort in the House -- similar to the mobilisation during the US-India nuclear deal, including involving the Indian-American community -- to tweak these provisions.

Community leaders as well as some USIBC members did not seem enthused about joining such a campaign.

Some believed the H-1B visa provisions in the bill were good for Indian skilled workers who would no longer be 'bonded' to any one company.

Others wondered why there was no overwhelming support from leading American information technology firms for the concerns largely affecting Indian IT heavyweights like Infosys, Wipro, Tata Consulting Services and others.

"We are very concerned about this proposed draft Immigration Reform Bill working its way through the US Senate," USIBC President Ron Somers told India Abroad.

"I am especially worried that US competitiveness will be hurt if the bill is adopted as drafted. "Why have US firms weathered the global economic recession as well as they have?"

"Resilience, yes, but also because US firms have become more productive, and have been able to enhance their competiveness, thanks to our 'knowledge partnership' with global IT firms in India, where innovation and value addition are taking place 24 hours a day, seven days a week," Somers added.

"Because of this partnership, I believe, the US economic recovery will prove transformational. So, why would we now wish to harm this successful model?

"We should be deepening our partnership with India, not the opposite."

The USIBC, he said, "is mobilising efforts on the Hill to educate lawmakers about the benefit of the US-India commercial relationship, and about our concern for this bill and how it could damage American competitiveness and our unique and productive knowledge partnership with India."

More than a decade ago, US high-tech firms mobilized in a major way to increase the quota of H-1B visas to nearly 200,000.

Why is there is no such critical mass now?

"The US argues for the free movement of goods and services," Somers replied, "and, with these provisions adopted, would be inconsistent in its policy with respect to the free movement of technical professionals."

Some of these fissures within have been manifest at Congressional hearings.
Ron Hira, associate professor of public policy, Rochester Institute of Technology, New York, told the Senate Judiciary Committee: 'The bulk of demand for H-1B visas is driven by the desire for low cost workers, not by a race for specialized talent or a shortage of American talent.'

Somers pointed instead to the testimony of Brad Smith, general counsel and executive vice president of legal and corporate affairs at Microsoft, who told lawmakers that it was absolutely necessary to expand the H-1B programme.

'Like most American businesses,' Smith said, 'Microsoft has seen the enormous contributions that highly educated foreign workers bring to our company and our economy.

'Now more than ever, as our economy continues its recovery, we need effective high skilled immigration reform that brings the best talent in the world to America and to enables these individuals to work together with the innovators, entrepreneurs and talented individuals in our domestic work force.'

He suggested increasing the fees for H-1B applicants to $4,700 and creating a $500 million STEM -- science, technology, math, engineering -- education fund.

The USIBC's argument, in its own words


It makes no sense for the US to advance a policy that turns away talented, highly-educated individuals who want to contribute to America's prosperity and competitiveness.
The bill would put the US at a relative disadvantage in the global marketplace, driving away skilled workers to go elsewhere, including to Canada and Europe.
The proposed caps on H1-B visas will instead put a cap on economic growth in both the US and India, something that is bad for our domestic markets and the global economy.
The US and India as the world's largest free-market democracies should be working more closely together, not setting up walls of protectionism.
Many thousands of these talented H1-B visa holders want to plant roots in America, contributing to US economic advancement, enhancing local taxes, and spurring the growth of new job-creating businesses.
In terms of jobs, the USIBC said:


A 2012 McKinsey report found that by 2020 there will be 1.5 million more openings requiring a bachelor's degree in the US work force than there are candidates for jobs
Even doubling the number of H1-B visas does little to allow leading US companies to fill the thousands of STEM positions open today.
These jobs are high-wage positions that support vital operations in the financial services, retail, health care and services industries that are not able to be filled from the domestic labour pool.
Image: Senator Orrin Hatch (Republican, Utah) centre, confers with Senator Chuck Grassley (Republican, Iowa), right, and Senator Chuck Schumer (Democrat, New York), left, during the Senate Judiciary Committee's mark-up for the immigration reform bill on Capitol Hill, May 9 | Photograph: Win McNamee/Getty Images