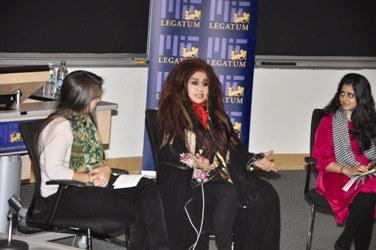 The lack of a college degree didn't stop Shahnaz Husain from becoming the owner of a successful business.

The chief executive officer of Shahnaz Herbals was invited to the Massachusetts Institute of Technology's Sloan School of Management to speak about her business.

"There is nothing like our products. If a beauty product is not available, one can replace it with another, but not for the Shahnaz brand. . .

This is the USP of the brand,' she told the audience of entrepreneurs and students.

Her company has 480 products, which are available in the US.

"I believe that one of the reasons for our success is that I pioneered the ayurvedic beauty movement," she added.

Husain, who began her entrepreneurial journey in 1970, spoke of how she began with clinics and entered the retail market in 1990s.

She also spoke of using word-of-mouth publicity as an effective business strategy instead of conventional advertising and the franchise system, which is at the core of the success of her brand.

"Today, we are operating in more than 100 countries, where we have franchise salons, beauty training academies, spas, shops and over 375 products for beauty and healthcare," she said.

"Woman empowerment is the basis of my franchise system. Very early in my career, I began to motivate ordinary housewives
to start beauty salons in their own homes, in a small way, the way I had done. . . . Business ability is without gender. Given the same opportunities, women can be as good as men in business."
She said entering the international market was her biggest challenge: "With beauty empires pumping billions of dollars into a hysterically mad cosmetic industry, selling youth and dreams in bottled jars, to sell a civilisation in a jar was not easy."
But once she began, the business thrived: "By 2015, we plan to expand our presence in major countries like the US, Canada, West Asia, Australia, Singapore, Malaysia, New Zealand."
Husain also spoke of her efforts to empower speech, hearing and vision-impaired girls through free beauty training courses.
Later, she spoke to India Abroad about her research and development work.
Her latest products include blending stem cell with Ayurveda.
"It is the result of 12 years of research," she said.
She has worked on products for cancer survivors, who she found, had skin and hair problems post treatment. She gives it to cancer patients free.
"How can I charge from them?
"To watch their joy is enough.
"You cannot buy goodwill or prayers with money," she said, adding that she plans to supply the Chemoline products to cancer hospitals all over the world.
Image: Shahnaz Husain (centre) at the MIT Sloan School of Management. | Photograph, courtesy: Shahnaz Husain