Cleveland State University will name its newly constructed College of Education and Human Services building after an Indian American alumni for his generous gesture of donating $6 million to the varsity.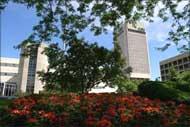 Anand "Bill" Julka, a software entrepreneur from Ohio, has donated $6 million to Cleveland State University, where he earned his Masters' degree in 1974.
"In recognition of Julka's outstanding generosity, CSU will name its newly completed College of Education and Human Services building, Julka Hall," the university said in a statement.
The donation, the highest ever for the Cleveland State University and the fifth highest in May for a US university, will fund an estimated $300,000 in additional scholarships annually.
Julka immigrated to the United States from India at the age of 22 with a few personal belongings and a Bachelor's degree from the Indian Institute of Technology.
He chose CSU's graduate school because it offered night classes, which he attended while he worked at Eaton Corp at day time.
He earned a Master's degree in industrial engineering from the university's Fenn College of Engineering in 1974.
Julka said he is passionate that students in the city of Cleveland receive the same opportunity he had.
"Many students already have economic challenges working against them," said Julka who is now the president and founder of Smart Solutions Inc.
"But I don't believe anyone should be denied a good education simply because they don't have the money to pay for it. Cleveland State played a critical role in my life, and the University continues to be a pivotal part of this community," Julka said.
Julka said his donation comes in support of the leadership of President Ronald Berkman, who has brought a new vision to the University witnessed by his launch of an on-campus K-12 International Baccalaureate School, an innovative Urban Primary Care program in conjunction with NEOUCOM and a $40-million north campus development project.
Berkman said that Julka's gift supports the University's ongoing progress by underscoring the value of education throughout the community.
"In this economy, these scholarship funds are especially significant so that education can remain a priority for Cleveland families," Berkman said.
"This gift also will play a critical role in the lives of many students who otherwise might have missed the opportunity for an advanced degree," he said.
Julka founded Smart Solutions in 1985, which is a leading provider of systems integration and networking solutions.