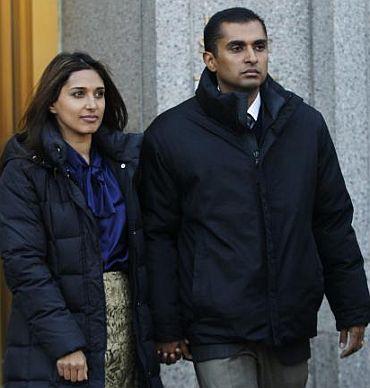 The United States district court in Manhattan found Indian-origin hedge fund portfolio manager Mathew Martoma guilty in the largest-ever insider trading case.
A 12-member jury pronounced 39-year-old Martoma guilty in one count of conspiracy and two counts of securities fraud.
Martoma, a former SAC Capital portfolio manager, faces 20 years in prison for securities fraud and five years for conspiracy
As per Martoma's lawyer, Richard Strassberg's request, District Court Judge Paul Gardephe postponed further action in the case for three weeks. Martoma will remain free on bail.
With this, US attorney Preet Bharara's office has won all the 79 cases it filed in insider-trading. Some of them were convicted and others pleaded guilty.

Martoma consistently refused to plead guilty.
"Cheating may have been profitable for Martoma, but in the end, it made him a convicted felon," said Bharara in a statement.
Strassberg said: "We are very disappointed and plan to appeal."
Martoma, who lives with his paediatrician wife Dr Rose Mary and three children in Boccaraton, Florida, was charged with secretly obtaining information about clinical tests of an experimental drug for Alzheimer's disease conducted by the pharmaceutical companies Elan and Wyeth.

Elan is now part of Perrigo Co, and Wyeth is part of Pfizer Inc.
When he got the information from two doctors involved in the research that the drug trial was a failure, he immediately informed his boss Steven Cohen of SAC Capital and caused to divest stocks in these companies worth $700 million.
By this, SAC Capital got $276 million in profits and avoided losses on the stocks of Elan and Wyeth before the bad news about the clinical trials became public knowledge, the prosecution said.
Attorney Strassberg opposed the allegation saying that Martoma was wrongfully charged as part of the government's efforts to get incriminating information against hedge fund billionaire Steven Cohen.

Cohen was never charged, but his hedge fund pleaded guilty to criminal insider-trading charges and settled it by paying $1.8 billion.
The defence also noted that much of the information about the research was already public knowledge and thus could not substantiate an insider-trading charge.
The defence also argued that Martoma had no role in SAC's selling of the pharmaceutical stocks, but prosecutors noted that he too sold his own stake in the companies.
Martoma is the eighth current or former SAC Capital employee charged with insider trading. The other seven pleaded guilty or were convicted at trial. Martoma did not testify. He also refused to cooperate with the prosecution against Cohen.
Dr Joel S Ross and Dr Sidney Gilman, the two doctors involved in the drug trial, testified that they had given Martoma inside information about the research. Both were given immunity against prosecution for cooperating with the prosecutors.
Dr Gilman, 81, a former University of Michigan professor who was chairman of the safety committee during the drug trial, at times, showed signs of a faltering memory during the five days he took the witness stand, reports noted.
'He was not remembering, he was creating,' Strassberg told the jury.
Dr Gilman testified that he gave Martoma the final results of the trial on July 17, 2008, hours after he received it and weeks before it was made public.

Two days later, Martoma went to Michigan, to visit him and take a look at the data himself, Dr Gilman said.
The information represented the proverbial "canary in a coal mine" for Martoma -- advance notice bout the failure of the drug trial, Assistant US Attorney Eugene Ingoglia told the jury.
Strassberg attacked the testimony of Dr Gilman, who repeatedly told prosecutors he could not recall the meeting in his office with Martoma. But the octogenarian doctor told in the court that his memory evolved and he recalled key details shortly before taking the witness stand.
Ridiculing that explanation, Strassberg asked jurors: 'How in the world can the prosecutors try to convict someone of a serious federal crime based on this testimony?'
During deliberations, the jury called for the testimony of Dr Thomas Wisniewski, a defence expert witness who is a professor of neurology, pathology and psychiatry at New York University's Langone Medical Centre.
Dr Wisniewski had testified that there was "no substantial difference" between the detailed drug trial results Martoma's accused of trading on and an earlier press release by Elan and Wyeth publicising "encouraging top-line results" of the tests.