A US agency has announced to provide a financial assistance of USD 150 million to India to expand use of solar powered telecommunication towers.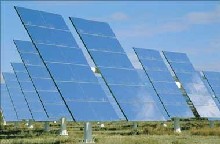 The decision by the Overseas Private Investment Corporation (OPIC) is expected to reduce CO2 emissions and create jobs in both the US and India.

"This project brings OPIC's financing for renewable energy in India to more than USD 400 million approved in just the past year," said OPIC President and CEO Elizabeth Littlefield."

OPIC is proud to be supporting India's impressive ambitions to shift to a less carbon-intensive economy," Littlefield added.

Together with project sponsor Applied Solar Technologies (AST), tower companies in India are working to reduce their dependence on site-situated diesel powered generator sets, in part because tower operators in remote areas lack access to the electrical grid, OPIC said in a statement.

The potential for higher fuel prices and mounting pressure to reduce CO2
emissions make the shift to renewable energy an important priority for the tower companies and cell operators generally.
In recognition of their efforts to reduce their carbon footprint, AST's two largest customers won prestigious awards for their focus on more sustainable operations.
AST will use the OPIC loan to supplement cellular towers' diesel-powered generators with solar hybrid energy systems that use proprietary controllers to integrate and optimise usage through photovoltaic technology, electricity from the electric grid, a battery bank charged by solar panels, and existing generators, the statement said.
The US sponsors of the project are Vinod Agarwal; Bessemer Venture Partners Trust, a subsidiary of California-based Bessemer Venture Partners, which manages more than USD 2 billion of venture capital invested in more than 130 companies worldwide; and Capricorn Libra Investment Group, a subsidiary of Capricorn Investment Group, LLC, also a California-based company that invests in companies manufacturing environmentally-friendly products.