There is a "material risk" of the United States losing its triple-A status if there is a repeat of the wrangling seen in 2011 over raising the country's self-imposed debt ceiling, rating firm Fitch said on Tuesday.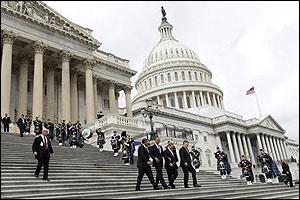 Despite December's deal by U.S. politicians to avoid the so-called "fiscal cliff" of spending cuts and tax hikes, Fitch's head of sovereign ratings, David Riley, said pressure on the country's rating was increasing.
"If we have a repeat of the August 2011 debt ceiling crisis we will place the U.S. rating under review. There will be a material risk of the U.S rating coming down," Riley said at a conference hosted by the firm.
Fitch currently assigns the United States its highest rating of AAA, but with a negative outlook. Peer Standard & Poor's has already downgraded the world's biggest economy, lowering the United States to AA+ in August 2011 - a move which appears to have done little to dull the attraction of U.S. bonds for investors.
Riley said the United States did not need the same kind of super-strength austerity some major developed economies are currently having to implement because it was grinding out higher economic growth than other high-debt nations.
But he warned a repeat of the 2011 squabble would undermine confidence in Washington.
"It is a concern that these self-inflicted crises are seeing us stagger every six months to a new deadline," Riley said.
"That uncertainty over economic and fiscal policy is something that is not typically characteristic of triple-A, and more substantively we think it is weighing on the prospects for growth and the recovery."