In the run-up to the general elections, the United Progressive Alliance (UPA) is considering announcing a "minimum pension of Rs 1,000 (a month) for all workers covered under the EPFO (Employees' Provident Fund Organisation)."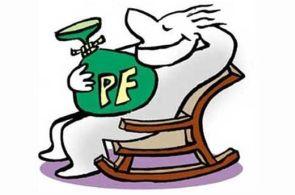 Sources say while the labour ministry, prodded by the Congress-backed Indian National Trade Union Congress (INTUC), favours the plan, the finance ministry is still deliberating on it.

It would be difficult to bridge the 0.63 per cent gap in the funds required for the plan, the finance ministry says.

Under the EPFO, the pension provision for workers is provided from their contribution to the Employees' Provident Fund; 6-10 million workers get paltry pensions, some as low as Rs 250 a month and the scheme is expected to benefit them. The EPFO has a subscriber base of 35 million.

"We wanted to ensure all EPF subscribers should get a basic minimum pension of Rs 1,000," Tapan Sen, general secretary of the Centre of Indian Trade Unions, told Business Standard.

He added representatives of the trade union had, on May 22, met the group of ministers headed by Defence minister A K Antony. The ministerial group had promised it would figure the financial implications and revert.

The group of ministers includes Finance Minister P Chidambaram, Agriculture Minister Sharad Pawar and Labour Minister M Kharge.

INTUC chief Sanjeeva Reddy is hopeful of "a favourable decision" from the government. "We have been impressing upon the government on how a guaranteed pension would be beneficial to the worker---in this case, those who are at the bottom rung. We have also urged the government to chip in with the additional funds," he said.

Gurudas Dasgupta of the All India Trade Union Congress, however, rejects the government's plan, terming it a "partial" fulfilment of their demands.

"For long, we have been demanding a universal pension scheme for all workers and we shall continue our fight for achieving it," he said.

In February, trade unions had gone on a two-day nationwide strike, demanding universal pension for workers.

Currently, 8.33 per cent of the employer's contribution (12 per cent) to the Employees' Provident Fund goes towards pension. The government contributes an additional 1.16 per cent.
Cover Drive
35 mn Subscriber base of the Employees' Provident Fund Organisation
6-10 mn Workers under the EPFO get paltry pension amounts as low as Rs 250
Rs 1,000 Minimum pension being mulled for all workers covered under the EPFO
8.33 per cent of the 12 per cent Contribution by the employer goes towards pension
1.16 per cent Additional amount contributed by the government towards pension
FinMin Still deliberating upon the scheme, while the labour ministry and trade union INTUC are for it
0.63 per cent Shortfall towards fulfilling this provision has become the bone of contention with the finance ministry