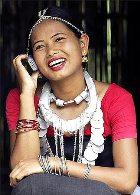 The Supreme Court on Thursday issued notices to telecom operator Bharti Airtel, GSM lobby COAI and private banks ICICI bank and American Express over unsolicited calls to mobile phones.
A bench comprising Justice V S Sirpurkar and Justice Cyriac Joseph issued notices to Airtel, Cellular Operators Association of India (COAI) and private sector banks ICICI and American Express and directed them to file their reply in eight weeks.
The court's direction came over a petition filed by one Nivedita Sharma requesting the apex court to stay the orders of the Delhi High Court, which had set aside the State Consumer Commission's directions to telecom operators to stop pesky calls.
She submitted that unsolicited commercial communications (UCC), which includes short message service (SMS) as well as calls, is a growing menace to the mobile phone users. Recently during a debate in Parliament Finance Minister Pranab Mukherjee had informed that he got a call with loan offers from some company.
It had evoked strong reaction from him as the call came in the middle of a debate on price rise in Parliament. Nivedita approached the apex court after the High Court set aside the order passed by the State Consumers Dispute Redressal Commission, imposing a penalty of Rs 50 lakh on Bharti Airtel and COAI and Rs 2.5 lakh on the two banks for UCC and SMS.
The High Court had said that the Consumer Commission had overstepped its powers in imposing the penalties.
However, the High Court had said that the telcos should follow the "Do Not Call Registry" as per TRAI's regulations.
Challenging it, Sharma said that the High Court order was "manifestly illegal, passed with out due application of mind and law in facts and circumstances".
"The High Court has failed to give any attention to the submission of the complainant that she and other subscribers still get UCC and SMS and despite having followed the prescribed procedure of making complaint many times no action has been taken against either the callers or the service providers," submitted Sharma.
She further contended that the High Court should not set aside the Commission's order, which in order to discontinue UCC, directed COAI to ask its members to immediately withdraw the list of subscriber and their mobile numbers provided by them to agencies, banks, financial institution.
"The High Court failed the aspirations and hopes of the millions, who are still getting these calls and instead of contributing to further improving the situation has by its narrow and limited understanding of the law and equity brought back the dark practices," she said.