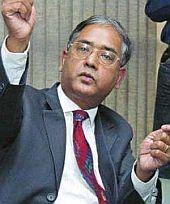 The government on Thursday appointed UTI AMC chief U K Sinha as the chairman of capital markets regulator, Securities and Exchange Board of India.
A 1976 batch IAS officer of the Bihar cadre, Sinha replaces C B Bhave who retires on February 17, 2011.
Sinha has been appointed as Sebi chief for a period of three years from February 18, 2011, said a notification issued by the government on Thursday.
He will be the eighth chief of Sebi.
"...(Sinha) has been appointed as the chairman, Sebi, initially for a period of three years with effect from the date he assumes charge of the post on or after February 18, 2011 or till he attains the age of 65 years or until further orders, whichever is earlier," it said.
Sinha at present is the chairman and managing director UTI Asset Management Company.
He also heads the mutual fund industry body Association of Mutual Funds in India.
Previously, he had also worked as a joint secretary in the Ministry of Finance between June 2002 and October 2005.
He looked after capital markets, external commercial borrowings,
pension reforms and foreign exchange management functions in the ministry.
He was also responsible for drafting the Sebi (Amendment) Act, 2002, UTI (Repeal) Act, 2002, the Securities Law Amendment Act, 2004 and the Pension Fund Regulatory and Development Authority Bill 2005.
He had also been on the boards of several financial institutions and banks, including Small Industries Development Bank of India, Industrial Financial Corporation of India, Bank of Baroda, Central Bank of India, UTI AMC and the Pension Fund Regulatory and Development Authority.
He started his career as a probationary officer in State Bank of India and later had a stint as managing director of the State Credit and Investment Corporation at Patna.
He has been associated with UTI AMC since 2005.
Image: U K Sinha