Delhi Chief Minister Arvind Kejriwal says surge pricing is daylight robbery and no responsible govt can allow that.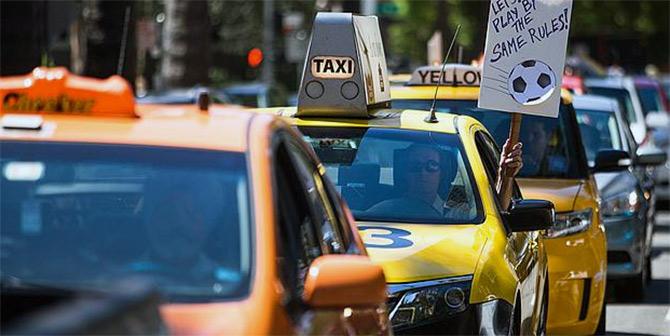 Image: Surge pricing is daylight robbery. Photograph: Reuters
Taxi aggregators Uber and Ola may have to permanently stop surge pricing, around which their business models are built.
In a series of messages on micro-blogging site Twitter, Delhi Chief Minister Arvind Kejriwal accused Uber and Ola of daylight robbery.
"Surge pricing is daylight robbery. No responsible govt can allow that. This is open blackmailing n govt will not let that happen," he tweeted.
To a suggestion on Twitter that the suspension of surge pricing should continue even after the odd-even scheme, Kejriwal replied, "Yes, we will do it."
There's nothing official from the Delhi government yet on banning surge pricing after the odd-even drill is over.
Recently, the Karnataka government had set a cap on surge pricing.
Airlines, railways and hotels offer dynamic prices. For taxi aggregators, the technology ensures real-time tracking of demand and supply, but airlines and hotels use revenue management tools to balance tariffs.
Sources said repeated requests by Uber and Ola to meet Delhi government officials had been turned down.
"No one from the government has given us time. We are getting to know of all these developments from tweets or press conferences held by Transport Minister Gopal Rai," said a taxi aggregator who did not wish to be named.
"If the cost of operation is going down per cab as the demand is high why should they charge a premium?" said Siddhartha Pahwa, CEO, Meru Cabs.
"We believe the CM has taken the right step by capping the maximum fare radio taxis can charge," he added.
Ola on Wednesday said it would offer free rides for its shuttle bus service on April 22 and 29. Since Tuesday, 75 taxis working for Uber and Ola have been impounded.
PRICING FOR PROFIT
Price gouging at its worst in other sectors
Hospitality: In peak holiday seasons, hotel tariffs typically rise because of surge in demand. The industry uses dynamic pricing to raise or lower cost of rooms and packages, based on supply and demand. This helps hotels maximise revenues by attracting customers at different price points.
Aviation: Airline companies decide on which fare slabs should be displayed for sale, as well as number of seats in each slab. As seats get sold in lower priced slabs, the costlier ones are displayed. In addition, pricing is event-specific. In the past, the government has threatened airlines against jacking up prices, but has not intervened in pricing matters so far.
Railways: The Rail Budget in February said that dynamic pricing based on demand would stay. Railway Minister Suresh Prabhu said independence of Rail Development Authority will be ensured to enable fair pricing of services. Prabhu's comment followed criticism of the excessive high train fare during dynamic pricing.