Even as the profit margins swelled for most media conglomerates on the back of robust growth in advertising and subscription revenues for the second quarter ended September, companies running television news channels had an uphill time.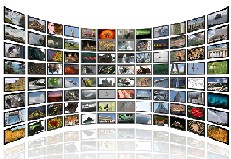 New Delhi Television (NDTV) widened its losses from news operations. Network18, which runs CNBC-TV18 and CNBC Awaaz, registered a marginal increase in revenues from the news business, a rise of 4.6 per cent to Rs 680 million (Rs 68 crore) during the quarter.
Overall, the Network18 Group reported positive Ebitda (earnings before interest, taxes, depreciation and amortisation) numbers in the quarter, at Rs 50 million (Rs 5 crore), compared to a deficit of Rs 470 million (Rs 47 crore) in the same quarter last year.

For NDTV, the net loss from news widened to Rs 3,430 million (Rs 34.3 crore) from the earlier Rs 1,185 million (Rs 11.85) crore. NDTV's operating expenses increased by 22 per cent to Rs 9,820 million (Rs 98.2 crore), as compared to Rs 8050 million (Rs 80.5 crore) spending in the second quarter of last year, primarily on account of a sharp rise in distribution spends.

The company expects revenues to revive in the third quarter, on account of increase in spending on advertisements during the festive season. On a consolidated basis, NDTV's net loss narrowed to Rs 6,760 million (Rs 67.6 crore) from Rs 8,560 million (Rs 85.6 crore) in the same quarter last year.

Anand Shah, research analyst, Angel Broking, said, "With most companies opting to advertise on entertainment channels, the share of news channels in the overall advertising pie has decreased. The fragmentation in the GEC (general entertainment channel) space has added to the competition."

He added, "TV18 and NDTV are both in a recovery state. While Network18 has restructured its balance sheets, NDTV reduced stake in Turner in February. Both companies have gone for cost-cutting. While profitability has improved, top line growth is yet to come about."

Media companies primarily focusing on entertainment channels, on the other hand, registered strong growth numbers between July and September. While net profit rose 28 per cent for Sun TV to Rs 16,740 million (Rs 167.4 crore) in the quarter, Zee Entertainment registered a 14 per cent rise in net profit, at Rs 12,630 million (Rs 126.3 crore).

Shah informed, "Media companies are posting strong growth rates on account of their low base. Subscription and advertising revenues are on the rise and are expected to continue on an upward swing. With the festive season setting in the third quarter, media firms will see stronger growth numbers in the second half of the year."

With ad spends falling sharply during the economic slowdown, the Indian media and entertainment (M&E) sector witnessed almost flat growth in 2009-10, growing by 1.4 per cent to Rs 5,87,000 million (Rs 58,700 crore).
However, with recovery setting in, the industry (dependent on ad spends for nearly 40 per cent of its revenues) has been projected to grow at 13 per cent yearly for the next five years (Ficci-KPMG report 2010).

Farokh Balsara, who heads the M&E segment at Ernst &Young, said, "Ad spends have grown by 15-18 per cent over last year. Revenues from the Pay TV industry is also on an upswing, with more households getting digitised. I expect the growth rates to firm up in the second half of the year."