Trump threatens to impose additional $200 billion in tariffs on China, Beijing vows to retaliate
Illustration: Uttam Ghosh/Rediff.com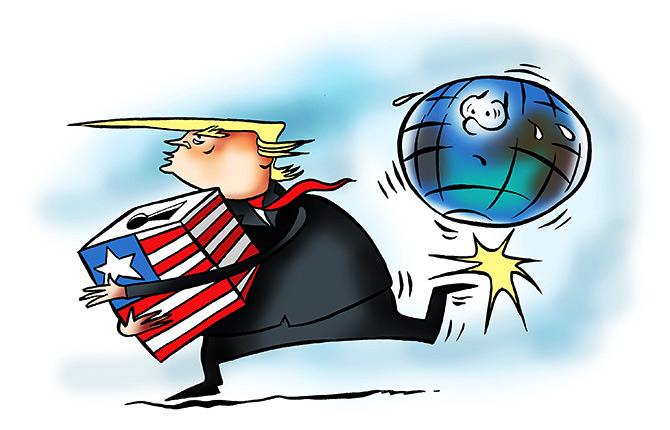 US President Donald Trump has threatened to impose tariffs on an additional $200 billion worth of Chinese goods unless Beijing ceases its "unfair practices", escalating a trade war between the world's two largest economies that hit the global stock markets.
Trump, pursuing his 'America First' policy, has been insisting that China has been unfairly benefitting from a massive trade imbalance with the US, now estimated to be $376 billion.
During the 2016 election campaign, he had promised to use tariffs to cut the US trade deficits.
The White House said that if China goes through with its promise to retaliate against the US tariffs announced last week, the United States will impose tariffs on an additional $200 billion worth of Chinese goods.
"Further action must be taken to encourage China to change its unfair practices, open its market to United States goods, and accept a more balanced trade relationship with the United States," Trump said in a statement on Monday.
The move followed tariffs applied last week on $50 billion in Chinese imports to the US.
China responded by saying it would hit 659 US products worth $50 billion.
Trump said that he had ordered US Trade Representative Robert Lighthizer to identify a second tranche of goods imported from China for tariffs of 10 per cent.
Trump said after the legal process is complete, these tariffs worth $200 billion will go into effect if China refuses to change its practices.
"If China increases its tariffs yet again, we will meet that action by pursuing additional tariffs on another $200 billion of goods. The trade relationship between the United States and China must be much more equitable," Trump said.
"However, and unfortunately, China has determined that it will raise tariffs on USD 50 billion worth of United States exports. China apparently has no intention of changing its unfair practices related to the acquisition of American intellectual property and technology," Trump said.
"Rather than altering those practices, it is now threatening United States companies, workers, and farmers who have done nothing wrong," he said.
He said China's latest action clearly indicated its determination to keep the US at a permanent and unfair disadvantage, which is reflected in the massive $376 billion trade imbalance in goods.
In Asia, while the Hong Kong stock market was down 2.8 per cent, the Shanghai plunged 3.8 per cent amidst the global concern over a tit-for-tat trade war between the US and China.
Frankfurt was the heaviest faller among leading European indices, shedding 1.4 per cent in late morning deals.
In Beijing, China's commerce ministry responded swiftly to Trump's latest threat, warning that if the US imposed fresh tariffs, China would have to adopt "comprehensive measures combining quantity and quality to make a strong countermeasure."
The US "practice of extreme pressure and blackmail departed from the consensus reached by both sides during multiple negotiations and has also greatly disappointed international society," it said.
Trump's latest comments came hours after US Secretary of State Mike Pompeo accused China of engaging in "predatory economics".
"Chinese leaders over these past few weeks have been claiming openness and globalisation, but it's a joke. Let's be clear: It's the most predatory economic government that operates against the rest of the world today. This is a problem that is long overdue in being tackled," Pompeo said.
"Whether that's threatening our technology leadership through intellectual property theft or forced technology transfer, we are hard at ensuring that we protect American property," he said.
Miffed by Pompeo's comments, China hit back saying that US is making allegations to cover up its unilateral protectionist policies.
"I have to point out that US remarks confused right with wrong and made irresponsible accusations against China to cover up its unilateral and protectionist moves", Chinese foreign ministry spokesman Geng Shuang said when asked for his reaction to Pompeo's comments.