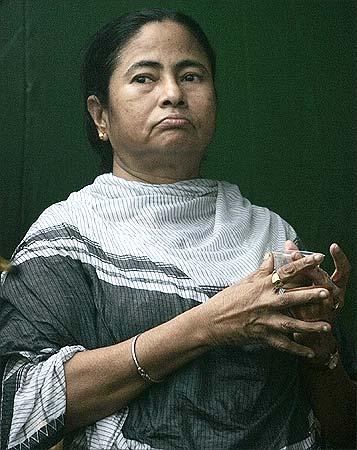 West Bengal Chief Minister Mamata Banerjee's maiden visit to the financial capital Mumbai drew an enthusiastic response from India Inc with industry captains queuing up to attend the meeting called by her.
The closed-door meeting which began in Mumbai this evening is being attended among others by RIL Chairman Mukesh Ambani, Ashok Hinduja of the diversified Hinduja Group, JSW Chairman Sajjan Jindal, Godrej Group head Adi Godrej and ITC Group Chairman Y C Deveshwar.
Also participating in the interaction are Kotak group head Uday Kotak, RPG chief Harsh Goenka, Videocon head Venugopal Dhoot, Chanda Kochhar of ICICI, TCS head N Chandrasekaran, Nitin Paranjape of HUL, Allahabad Bank CMD Shubhalakshmi Panse and Arup Roy Chaudhary of NTPC.
Banerjee, who had been criticised by the India Inc after the Tata Nano project was forced out of West Bengal, is being accompanied by her finance minister Amit Mitra and Trinamool Congress MP Derek O'Brien.
Later, a West Bengal Government official privy to the meeting told reporters that RIL Chairman Ambani told Banerjee, "the fact that you have come here within 48 hours of winning the Panchayat polls says you mean business."