India Inc on Monday asked Prime Minister Manmohan Singh to clear hurdles facing large projects and create an environment for investment driven growth, that has taken a battering due to external and internal factors.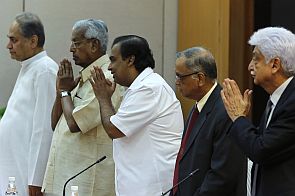 Reliance Industries chairman Mukesh Ambani, ICICI Bank MD and CEO Chanda Kochhar, HDFC Chairman Deepak Parekh, along with heads of leading industry chambers brainstormed with the Prime Minister the problems facing the country and the nation.

Others who attended the meeting include Rahul Bajaj, Narayana Murthy, Azim Premji, Swati Piramal, Deepak Parekh, Jamshyd N Godrej, Venu Srinivasan, Sunil Kant Munjal, S Gopalakrishnan and Sunil Bharti Mittal, among others.

The high-level meeting of the Prime Minister's Council on Trade and Industry was attended by Finance Minister P Chidambaram, Commerce and Industry Minister Anand Sharma and PMEAC Chairman C Rangarajan, among others.

Prime Minister wanted a report within a month on what could be done in the next 2-3 months to revive growth.

"We have given suggestion in two categories, one for near term and one for longer run. For near term, we have suggested clearing of large projects and those projects which were cleared should now be executed," Ficci President and HSBC India head Naina Lal Kidwai said after the meeting that lasted 160
minutes.
The business communities in their deliberation with Singh discussed current account deficit, reviving economic growth, industrial corridors and skill development.
Kidwai said industry expects some decisions on the suggestions within a week.
Assocham demanded increase in FDI limit in insurance sector from 26 per cent to 49 per cent and raising the foreign investment cap in the multi-brand retail segment to 100 per cent from the existing 51 per cent.
The meeting took place against the backdrop of decelerating industrial production and the liquidity tightening measures undertaken by RBI to arrest decline in rupee. RBI initiatives are intended to squeeze out excess liquidity from the market.
Industry, Kidwai said, wanted to know by when the RBI's measures on liquidity tightening would be reversed.
CAD last fiscal was 4.8 per cent and the government intends to bring it down to 4.2 per cent this financial year.
The rupee slide is another concern for the government. Earlier this month, it plummeted to all-time low of 61.21 against the US dollar.
Image
:
Wipro Chairman Azim Premji (R), Infosys founder NR Narayana Murthy (2nd R), Mukesh Ambani (C), chairman of Reliance Industries Limited, an unidentified man and Rahul Bajaj (L), chairman of the Bajaj Group, greet India's Prime Minister Manmohan Singh (not seen) before their meeting in New Delhi.