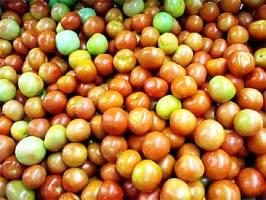 Tomato prices continue to remain high at up to Rs 80 per kg in retail markets of the national capital mainly because of tight supplies from Madhya Pradesh and Maharashtra.

Onions, too, are expensive at Rs 60-70 per kg, while other major green vegetables are ruling between Rs 35 and Rs 90 per kg.

Mother Dairy, which has about 400 retail outlets in the national capital region, is selling tomatoes at Rs 62 per kg and onions at Rs 58-60 per kg.

It is selling two varieties of potatoes at Rs 24 and Rs 44 per kg.

However, local vendors are charging Rs 70-80 per kg for tomatoes and Rs 60-70 per kg for onions.

As per the government data, tomato was being sold at Rs 70 per kg in Kanpur, Dehradun and Aizwal.

It was cheapest at Rs 20
per kg in Puducherry and Thiruchirapalli.
The average rate for 57 cities stood at Rs 40 per kg.
Traders at Delhi's Aazdpur wholesale mandi attributed the rise in tomato prices to lower supplies from Ratlam in Madhya Pradesh and major producing regions in Maharashtra.
The arrival of tomatoes have almost stopped from Himachal Pradesh with the onset of winter season, they added.
Arrival of tomatoes has declined by almost half in the national capital as compared to supplies before Diwali, mainly due to festive season and extended monsoon, traders said.
Among green vegetables, capsicums are selling at maximum Rs 89 per kg at Mother Dairy's Safal outlets, followed by beans at Rs 76 per kg and colocasia (arbi) at Rs 64 per kg.
Bottle gourds are being sold at Rs 38 per kg, ladyfinger (okra) Rs 54 per kg, cauliflower Rs 52 per kg and cabbage Rs 44 per kg.