Travel firm Thomas Cook (India) Ltd on Saturday announced a merger with Sterling Holiday Resorts India in a Rs 870-crore (Rs 8.7 billion) part-equity, part-cash deal to be executed in multiple stages.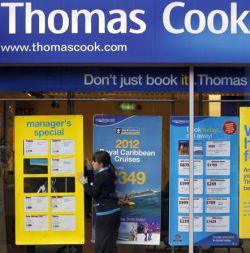 TCIL will first inject Rs 187 crore (Rs 1.87 billion) for a preferential allotment of a 23 per cent stake in Sterling. After that, it will buy stake from shareholders of the Chennai-based resort owner for Rs 176 crore (Rs 1.76 billion).

This will trigger an open offer under SEBI norms and TCIL will seek to buy up to 26 per cent in Sterling for Rs 230 crore (Rs 2.3 billion).

The equity swap ratio for the merger has been fixed at 120 shares of TCIL for every 100 shares of Sterling. The transaction is expected to be completed by December 2014, after obtaining mandatory clearances.

"The synergistic opportunities this new partnership offers are enormous because they create multiple avenues to grow our respective businesses and to create valuable business opportunities together," TCIL Managing Director Madhavan Menon told reporters.

Sterling Holiday is valued at Rs 870 crore (Rs 8.7 billion), Menon said.

After the merger, the Chennai firm will continue operations under the leadership of Sterling Holiday Managing Director Ramesh Ramanathan with an independent board. Sterling will cease to exist as a company but will continue as a brand.

"We have no intention to integrate the Sterling brand into Thomas Cook," Menon added.

Ramanathan said the merger will boost Sterling's market position as there are multiple natural synergies that will benefit both companies.

"Thomas Cook customers will have access to our pan-India network of well-located, full-service, quality resorts, which offer great holiday experiences," he added.

A senior Thomas Cook executive said Bay Capital, an investor in Sterling, will have around 2 per cent equity in the merged entity.

Based on the equity investments and merger ratios, the aggregate value of the two companies is estimated at about Rs 3,000 crore (Rs 30 billion) they said in a statement.
TCIL shares gained 2.28 per cent to Rs 87.50 at the close on the BSE on Friday, while Sterling Holiday declined 0.38 per cent to Rs 92.90.

TCIL, a travel and travel-related financial services firm, is promoted by Fairfax Financial Holdings through its unit Fairbridge Capital. Sterling is a vacation ownership and leisure hospitality company.

Antique Group acted as advisor and ICICI Securities Ltd as merchant banker to Thomas Cook for the merger.