The IT slowdown directly threatens not just the wellbeing of support industries but also that of India's IT cities. This impact has not necessarily been factored in, yet, notes Devangshu Datta.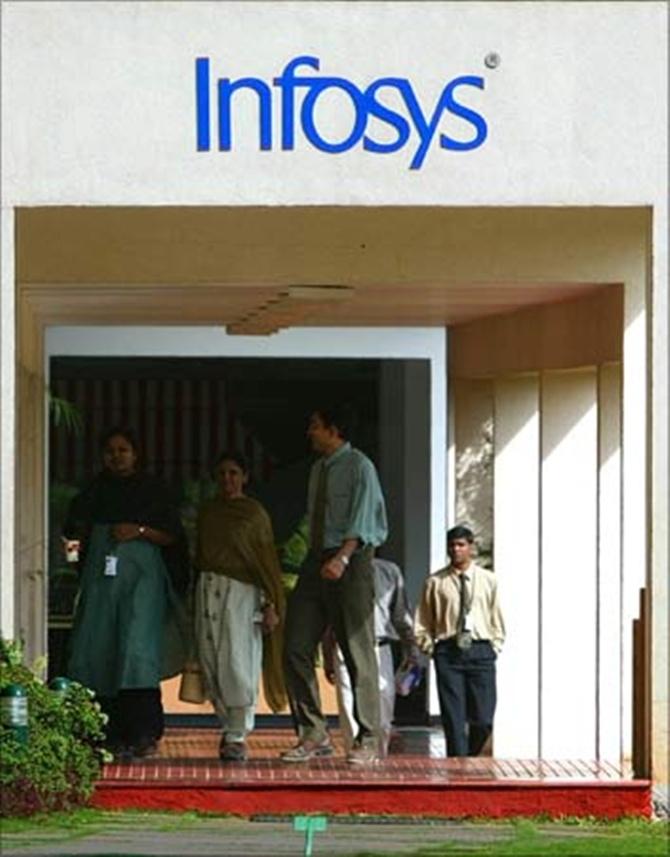 IMAGE: At the Infosys campus in Bengaluru. An industry-wide slowdown of the IT sector could mean a negative impact on consumption in tech-hubs. Photograph: Reuters.
Bengaluru, Gurgaon, Hyderabad, Noida, Pune, New Bombay are all cities that have grown substantially due to being desirable locations for the information technology (IT) and IT enabled service (ITES) industries.
But now, the tech sector has run into a roadblock. This is partly caused by cyclical factors and geopolitics. It is also due to rapid, disruptive advances in technology.
An industry-wide slowdown could mean a negative impact on consumption in tech-hubs.
Industry association, Nasscom, recently came up with guidance that earnings would be almost flat through this financial year.
Export revenues are likely to rise by 7-8 per cent in constant currency terms in FY2017-18. That's lower than the 8.6 per cent growth logged in FY2016-17.
Exports were $116 billion in 2016-17 while domestic revenues amounted to $24 billion.
Domestic revenues may, however, rise by 10-11 per cent, which could be a saving grace.
The industry may add 1.3 lakh to 1.5 lakh jobs this financial year, which is again, lower than net new hirings of 1.7 lakh in FY2016-17.
Headwinds include uncertainty about H-1B visas to service United States clients and also increased threats of protectionism.
A stronger rupee doesn't help since it makes services more expensive.
New drivers could be growth in fintech and high potential in new digital businesses, according to Nasscom estimates.
Re-skilling is likely to be necessary for anywhere up to half of the 4 million-odd industry workers. McKinsey concurs about the need to retrain half or more of the workforce. But the consultancy outfit makes grimmer projections of 1.75 lakh to 2 lakh jobs being shed annually over the next three years.
Analysts and investors have started to discount the IT slowdown over the past year. The industry has seriously underperformed the overall market.
While the Nifty is up by 15.5 per cent in the past 12 months, the Nifty IT index is down 11.5 per cent. The Nifty PE is running at 24-plus (weighted free-float average) while the IT Index PE& is at 16.5.
This is a comedown for an industry used to high double-digit growth and high valuations.
Every IT worker in India supports multiple other industries via consumption and also due to the necessity of support functions for the industry itself. The impact on those sectors has not necessarily been factored in, yet.
Many industries thrive on demand generated by IT workers.
Consider for example, the mushrooming of 24x7 eateries in IT hubs. Also think of the car-hire industry, which earns steady income by servicing call centres. Plus, there's the IT workers' willingness to spend on trendy clothes, cosmetics, multiplex tickets, high-end holidays, to buy flashy cars and bikes, pay exorbitant rents and take out mortgages, etc.
According to Assocham, rents in IT hubs could ease by 10-20 per cent as the IT/ ITES industry experiences slowdown. If that is true, it's likely that there will also be a slowdown in real estate offtake, and mortgage growth could ease up.
We've already seen some trouble in ride-hailing companies, like Uber and Ola, as Bangalore drivers complain about lower incentives. Stagnation in the IT industry could be an unstated, underlying issue here.
Entrepreneurs providing transport services to IT/ ITES could also suffer stagnation.
There may, at some stage, be lower occupancy in business hotels, in conferencing and in airline passenger growth.
Obviously, lower consumption could have "negative trickle-down" effects.
Industry associations don't usually issue downbeat advisories. So, take these projections from two influential industry associations seriously.
If you have exposure to an industry with high dependency of revenue-accrual from IT, consider reducing exposure.
Also consider the possibility that the IT industry itself could be due for another bout of valuation-downgrades. That looks to be on the cards now.