Vanita Kohli-Khandekar reports on the ongoing battle for the top spot between publishers S Chand and Navneet.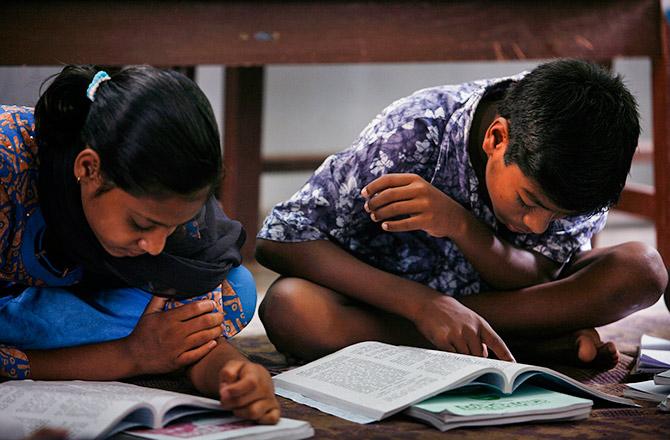 IMAGE: Both S Chand and Navneet don't rule out more acquisitions. And both reckon that potential acquisitions should be a minimum Rs 100 crore in size for them to be worth the effort. Photograph:

Parth Sanyal/Reuters

.

In the first week of December, the Rs 540-crore Delhi-based S Chand & Company acquired a majority stake (74 per cent) in Kolkata-based Chhaya Prakashani. This is its third acquisition in four years, and the company wants to come out with an initial public offer of Rs 650-700 crore later this year.
S Chand is the publisher of some of the largest selling textbooks on science, maths and English, among other topics, in India.
Just two months before that, in October, the Rs 949-crore Mumbai-based Navneet Education acquired the India curriculum business of Chicago-based Encyclopaedia Britannica. It includes titles such as Know for Sure and Science Spark.
Both are on the prowl for more.
"Every good publisher wants to grow all India. We believe it is time for consolidation," says Gnanesh (Sunil) Gala, managing director, Navneet.
Himanshu Gupta, managing director, S Chand, declines to make any forward-looking statement in view of the impending IPO. There is however no doubt that S Chand is gunning for the top slot. It first raised capital through Everstone in 2012, which helped start its acquisition spree.
Analysts reckon that much of the ambition stems from the realities of the Indian education publishing market estimated at anywhere between Rs 14,000 and Rs 22,000 crore. It is disorganised and seasonal and the only way to scale and profitability is through acquisitions.
So far, the battle for the top slot seems to be between two of India's largest publishers, Navneet and S Chand. If you remove Navneet's Rs 400-crore stationery business, they are equals, more or less. There are many others such as Macmillan and Orient BlackSwan, but on top line and market spread, Navneet and S Chand are way ahead.
The K-12 segment
Most schools in India are affiliated to one of the three governing bodies: the state level board for secondary/senior-secondary education, the Central Board of Secondary Education (CBSE) and the Council of Indian School Certificate Examination (ICSE).
Going by Nielsen data in the S Chand draft red herring prospectus filed with the Securities & Exchange Board of India, the country has 1.5 million schools. According to estimates, of these about 83,000 are private English-medium ones. Of these, about 16,000 are CBSE/ ICSE affiliated.
The schools affiliated to CBSE and ICSE are the fastest growing cluster. They prescribe a list of books for each class which the students/parents purchase at the beginning of the academic year. S Chand dominates this segment called K-12, or kindergarten to Class 12.
The rest of the English-medium schools are affiliated to state boards. Most of the textbooks on core subjects are supplied by the respective state governments. In this segment, publishers focus on supplementary books. This is Navneet's strong point, especially in Maharashtra and Gujarat.
Gala reckons that the quality of teaching in schools means that "students need support. So, supplementary (book) demand will always remain." It is, he points out, the discretionary part of the market and has higher margins than textbooks.
It is also a tough segment. Each state has a different curriculum and evaluation pattern, and publishers have to understand these before zeroing in on writers and materials for that curriculum.
Going from textbooks to supplementary to higher education or to markets with different boards is one way of diversifying and scaling up in a market known for its seasonal skews. Sales peak in one particular quarter, depending on which syllabus and part of the country the publisher operates in.
In Delhi, since the shift from one class to the next happens around March, the buying of textbooks is at its peak in January, February and March. In Mumbai, it is April, May and June. This means the bulk of the revenues come in that quarter. As a result, "out of four quarters, two have EBITDA losses," points out one analyst.
Navneet has tackled this by expanding into stationery, which brings in about Rs 400 crore in top line and smoothens the sales graph a bit. It is also going after the textbook market now, which explains the Britannica acquisition, which will add approximately Rs 80 crore to its top line by FY 2017.
"We get a major portion of our revenues from April to June. With textbooks, the fourth quarter (January/February/March) will also come into play," says Gala.
S Chand, on the other hand, is acquiring publishers such as Chhaya, which has a strong presence in state-affiliated schools in West Bengal. Chhaya has two seasons: December to February and March to May. Once through, the acquisition would add Rs 127 crore to the S Chand's top line by FY 2017. It also has a growing higher education and test preparation business that brings in about Rs190 crore of its top line.
On the lookout for companies
Both Gupta and Gala don't rule out more acquisitions, either in supplementary books or textbooks. And both reckon that potential acquisitions should be a minimum Rs 100 crore in size for them to be worth the effort.
"It is only at Rs 100 crore that margins (20-30 per cent typically) start kicking in," says Gala. But, "it is difficult to acquire in this industry," says Samir Khurana, group head, strategy and investments, S Chand.
According to Gupta, "It is a very unorganised market and there are very few players over Rs 100 crore. The big challenge is to get the right opportunity and to close it. It takes a long time." The Chhaya deal, for instance, took 18 months to close.
One question that analysts and investors ask a lot of publishers is: what about digital?
In educational publishing, the answer is the same as in newspapers or magazines: digital is there but not headed anywhere. Both S Chand and Navneet offer digital support through online versions and CDs, but usage is low and so is the contribution to the top line. "In most schools, digital learning is not taking a leap," says Gala. The textbook and supplementary book rules.