Prasanna D Zore/Rediff.com drives the Mahindra Reva to Pune and comes away impressed with the electric car.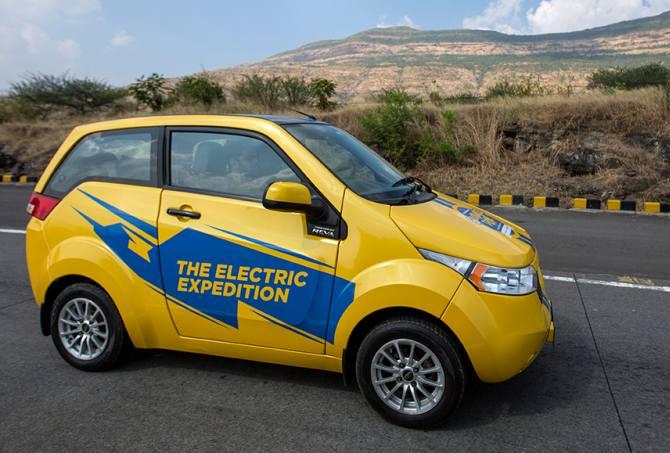 With the Delhi government all set to enforce its even-odd vehicle policy on its roads beginning January 1, 2016, and world leaders grappling with #ClimateChange in Paris over complex issues to bring down global carbon emissions before striking a deal on the weekend, zero emission cars that are powered by electric charge and other such technologies that use solar power or hydrogen fuel to power them could well be the future.
And that is where Mahindra's zero-emission electric car, the Reva, could well have the first-mover's advantage in India, say 20 years from today (it could be 10 or 5 years even, nobody knows) when reduction of carbon footprint could well be the sole agenda of automobile manufacturers across the world. Apart from developing advanced infrastructure for mass transportation, countries will have to willy-nilly adopt technologies that belch out less carbon dioxide.
While it is nobody's case that the Reva is in the business for charity and not profits, it is indeed heartening to see Mahindra & Mahindra pitch the Reva, also called the Mahindra e2o (read as energy of the Sun to oxygen), aggressively to Indian consumers as a 'city car' or the 'second car', just like the 'second home' concept that is all the rage among the Indian middle class today.
And the Mahindra Reva Goodness Drive -- that flagged off from Kashmir on November 16 and which will culminate in Kanyakumari December 16 -- that takes three expedition-ready Revas across the terrains that lie between these two Ks, is a sincere effort to not only increase sales but also showcase a product that has the potential to take on greenhouse gases and play its wee role in environment protection.
Rediff.com was invited to be a part of the Mahindra Reva Goodness Drive that flagged off from Mumbai on December 2 and ended at Pune the same afternoon before it rolled on to its southward journey. Here's my account of the drive:
***
Mahindra engineers and technicians who accompanied me during this leg of the Mumbai-Pune drive made me comfortable no sooner than I settled into the four-seater, two-door Reva.
"This is a one-foot drive. Just use your right leg to floor the pedal as well as apply brakes. No use of your left leg," they cautioned warmly.
Being an all-automatic car, the Reva is devoid of the clutch plate.
Once settled into the comforts of the roomy cabin (the leg room and head room are awesone for someone who is 5"5'), Ashish Kadam and Deepak Bandoday, the company executives, explain the metrics that measure how efficiently I am driving the Reva on a screen strategically placed just under the steering wheel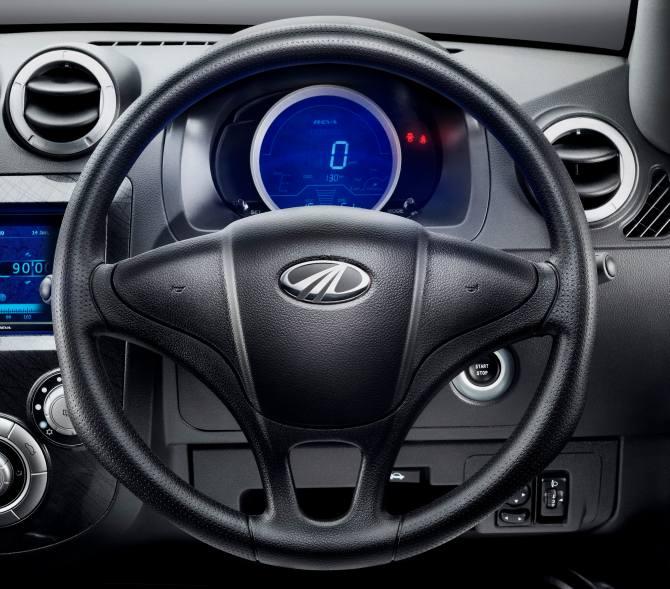 The screen displays battery status, distance you can cover with the given battery charge (called DTE or distance to empty) and if you need to increase or lower your car's speed to optimise battery use.
The navigation screen, part of the infotainment system, placed to the driver's left on the dashboard also provides performance related metrics in an easy-to-read format.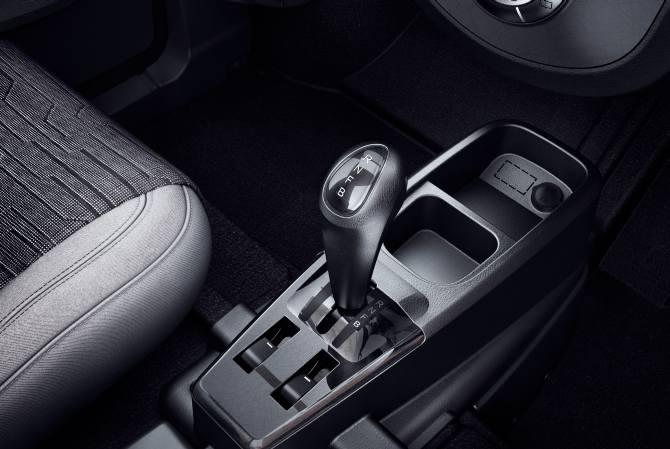 The gear box works linearly with R (reverse), N (neutral), F (forward) and B (boost) mode. The Reva moves ahead only when you shift it to F; the B mode offers an instant speed boost but takes up extra battery usage in the bargain.
Having done with these basics, we are all set to hit the road.
***
The drive from New Mumbai's Belapur business hub to the Mumbai-Pune Expressway (also called Yeshwantrao Chavan Expressway) is a smooth drive between 45km/hr and 55 km/hr (it is in this range that the battery operates optimally and which is so perfect for city driving); the only hitch for someone unaccustomed to automatic cars is in consciously using your right leg to accelerate as well as to brake.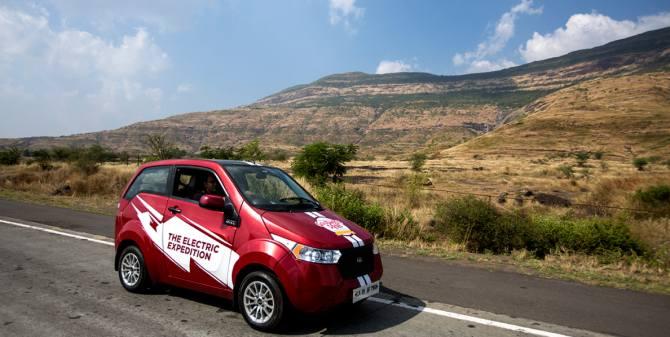 But that is just a 10-minute niggle that is soon sorted out once you are 10km old into your drive.
Note: Those who use the clutch-brake-accelerator routine in manual drives need not unnecessarily bother oneself too much with this 'use your right leg only' syndrome as all it needs to adapt is a 10-minute drive in the Reva.
Ashish and Deepak make you feel comfortable -- notwithstanding a few initial hiccups with your right-leg syndrome :-) -- and as soon as you hit the Expressway you begin to know your Reva well.
***
The first 50-odd kilometres on the smooth Expressway is a time to get accustomed to the Reva's interiors as well as to give some time to Reva to let it enjoy your company.
A constant 50km/hr to 60km/hr in the first stretch helps you understand and enjoy optimum battery usage; one should not accelerate or decelerate briskly so as to help the battery mechanism regenerate power which, in turn, helps you travel longer distances.
Anything between the one-to-three bar level on the screen under your steering wheel is what you need to pep your Reva with to gain optimum mileage from your drive. Any burst above this level should be a strict no-no; after all one would buy a Reva to not only protect the environment from greenhouse gases but also to enhance its mileage economy.
The company claims with efficient use, the Reva can attain a 50 paise per km economy. Compare that to the cost of running a petrol car per km of Rs 3.40 (petrol costs Rs 68/litre, and a fuel efficient car gives 20 km a litre), and you realise the Reva costs almost a seventh of a petrol car.
***
While driving at a steady 45-55 km/hr range is indeed good for your pocket and the car's power train, the adrenaline rush that you seek on an expressway eggs you on to to push the pedal to the floor.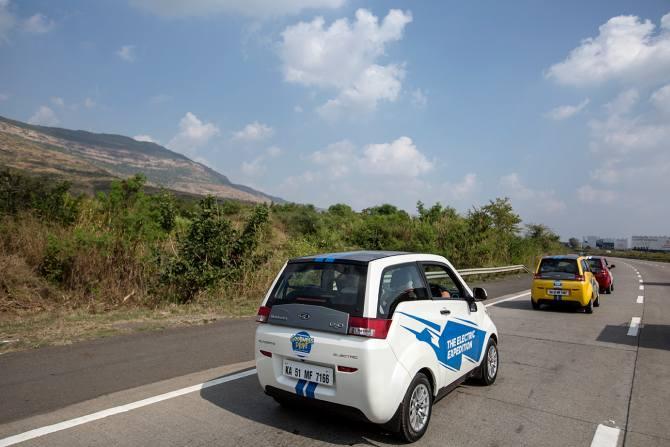 Once you have made up your mind to throttle the accelerator, the Reva picks up speed without much ado. In fact, the car just glides on the tarmac once you cross the 60km/hr line and keep the needle under the 70km/hr mark.
Unlike a combustion engine, there are no vibrations at all across the 0-87km/hr band -- that's the maximum the Reva does and we did it twice just for the heck of adrenalin -- and you feel top of the world when you max out with the vehicle cruising rock steady without any jerks or bumps.
***
By the time the Goodness Drive expedition reaches Lonavala, the uppity hill station nestled in the mighty Sahyadris, the Reva takes a recharging break. We have covered more than 61 km from the suburb of Belapur and the battery, when we began at 98 per cent, was still a nifty 30 per cent, with the DTE (distance to empty) still some 35 km away.
The Reva charges fully in four and a half hours when connected to a 15-ampere socket and can easily sprint 120km on full charge on normal usage. But the ghats that one encounters after passing Khopoli till Lonavala juices the Reva out faster than it would on a straight road.
But, if you are someone who takes pride in driving your vehicle for optimal fuel usage, you can still extract 120km plus some extra juice out of a fully charged Reva on a straight road.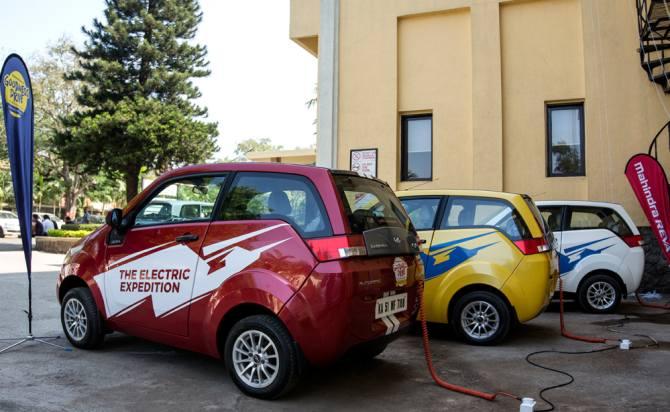 Also, given the fact that there is no combustion engine and so no moving parts, the maintenance cost of Reva is almost zero, making it not only environment friedly but pocket-friendly too.
However, you can call it pocket-friendly only if you have Rs 4.99 lakh (Reva's on-road price in Mumbai) with you and an additional Rs 3,000 per month to pay for for 5 years under a scheme that allows you to pay the balance Rs 180,000 in 60 months.
If you don't opt for this finance scheme, then the Reva will be all yours for Rs 6.7 lakh, that is Rs 4.99 lakh plus Rs 1.8 lakh.
***
After a 90-minute charge the Reva is all ready to sail (glide) to Pune on a mildly downhill drive on the plateau to our final destination for the Goodness Drive.
The drive past Lonavala into Pune is a breeze. The 60-70km/hr speed -- which I call the 'glide-drive' -- is what I enjoy the most and consciously keep the vehicle in this band. The battery usage too is more or less optimal and by the time we reach Pune on the final leg of our drive, the DTE shows we have still 20-odd kilometres to go.
It is almost 2 pm when we reach our destination after a pleasant drive -- thanks to the Reva, not the weather -- and it's time for lunch and the drive back home even as the Reva gets another dose of charge at a designated Mahindra dealership from where it will move on to Hyderabad en route Solapur.
The Mahindra Reva Goodness Drive will end December 16 at Kanyakumari.
A few points:
~ In cities, where the Reva should have a ready clientele and where more and more people reside in apartment buildings than cottages, villas or bungalows, the 15-ampere socket to charge the Reva would be a huge niggle.
~ Even though the Reva works on battery mechanism, this battery needs to be charged using electricity, which in turn, at least in India, is largely produced by burning coal. Now, wouldn't it still leave a huge carbon footprint? Here, I am not contesting the math of carbon emission while driving one kilometre in an electric car versus driving one kilometre in a petrol/diesel car working in favour of the former.
Having said this, it is about time we do our bit to protect the environment from the perils of carbon emission. And the Reva is a good way to begin.
All images courtesy: Mahindra & Mahindra.