ISRO has an opportunity to be the one-stop shop for satellite manufacturing, and Alpha Design is just the booster it needed.
Raghu Krishnan reports.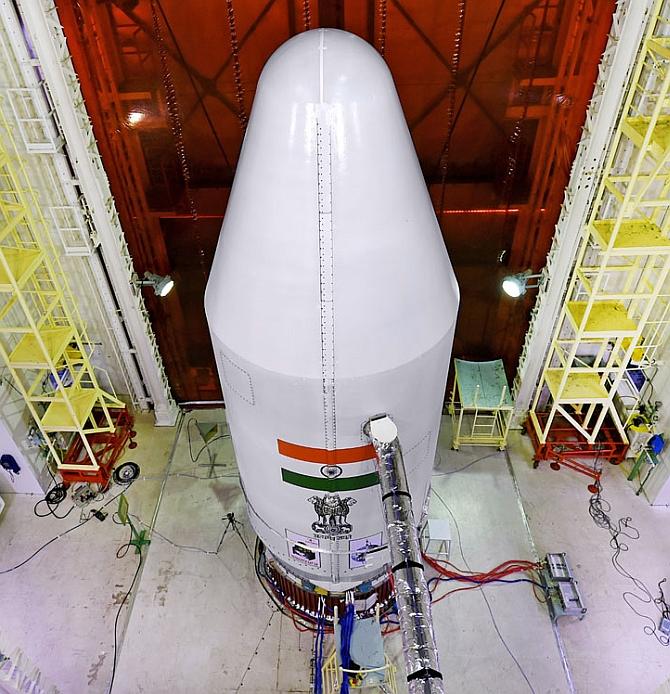 When the Indian Space Research Organisation started to look at private technology providers to make satellites, it chose a consortium of small and medium companies over larger players such as Larsen & Toubro and Bharat Electronic Systems.
ISRO had planned to tap private players over a decade ago to build its satellites, but the experiment failed as it found the industry wanted large scale commitment before it began work.
This time round, the space agency, which sees satellite manufacturing and space services as the next big global opportunity for Indian companies, wanted to execute its plan differently.
It opted for a consortium of small- and medium-sized firms led by Alpha Design Technologies to work with its team to build a navigation satellite first and then a second one independently at its facilities.
The first one, a Navigation with Indian Constellation or NAVIC satellite, will be built at ISRO's facilities in Bengaluru.
The choice of the satellite was important: India already has a constellation of seven navigation satellites that help pinpoint the location of people and goods across the subcontinent.
The two new satellites are spares being built to add to this capability.
If this experiment of roping in private players fails, it would not cost ISRO or the country much except the cost of trying out new models.
The process of assembling and testing of the two satellites would take around 18 months, which ISRO hopes would be a long enough duration for the private teams to learn and start building satellites on their own for the space programme.
ISRO's larger goal, besides boosting India's navigational capabilities, is to create a rung of private companies capable of building satellites independently.
While there were others in the fray, ISRO picked up the consortium led by Alpha Design because of its location, supplier base and the clear roadmap for scaling up the team.
The other reason was that the consortium's smaller team promised a nimble and flexible work environment that ISRO thought would be able to learn and absorb new technologies faster.
"The consortium has companies with expertise in each segment, such as electrical, software and others, required for building a satellite. So far, the industry has been associated with developing some of the components for the satellite. Now, we are setting up this consortium to build a fully integrated satellites for launch," said M Annadurai, director of the ISRO Satellite Centre, a day before the deal was announced.
India is at a sweet spot when it comes to making satellites and launching them from its soil.
Its Polar Satellite Launch Vehicle has emerged as the workhorse to send small satellites from across the globe into space.
In January, the rocket has been contracted to launch 83 small and micro satellites into orbit for a US customer, the biggest single exercise so far by any space agency.
SpaceWorks, a US satellite forecaster, predicts over 3,000 nano/micro satellites, weighing less than 50 kg, to be launched by 2022, predominantly for earth observation and remote sensing purposes.
The failure of two rockets, Antares and Falcon 9 over the last two years, has created a backlog of small satellites that need to be hurled into space over the next few years.
India is hoping that it can tap this opportunity to launch these satellites on its rocket, while also looking at the local industry to help build the satellites for overseas customers.
"Whenever there is a large production of satellites, there will also be requirement for sub-systems. There are many industries which can produce for global companies," said ISRO Chairman A S Kiran Kumar in an interview in August.
ISRO is looking at the consortium approach to not only involve the industry to build the PSLV rocket, the first of which is expected to be launched by 2020, but also enable private players to pitch themselves as an integrated service providers: design, build and launch services of satellites for customers globally.
Alpha Design Systems has expertise in building complex systems for the Indian armed forces.
Unlike hundreds of start-ups founded by young technology graduates in Bengaluru, Alpha was founded by Colonel H S Shankar, a retired Research and Development head of the Bharat Electronics, in early 2000.
In 2004, Alpha began taking up projects for the Indian Army, helping it retrofit imagers for its Russian tanks.
Over the years, it has taken up projects in opto-electronics (combines electronics and light), electronic warfare equipment, missile launch detection systems and missile seekers for the armed forces.
It acquired firms with capabilities in developing software and has partnered with Airbus and Israel's Elbit Systems and Elta for making equipment for the armed forces.
For ISRO, Colonel Shankar assembled a group of companies -- Newtech Solutions, Aidin Technologies and DCX Cables from Bengaluru; Vinyas Technologies from Mysuru; and Avantel Systems of Hyderabad -- to jointly bid for the contract.
"We intend to invest Rs 100 crore (Rs 1 billion) to set up a unit next to ISRO with a full-fledged facility for satellite manufacturing," says Colonel Shankar.
"We have 70 people working for ISRO on the first two satellites and it would be expanded to around 400 later."
In 2004, Alpha Design started with a revenue of Rs 25,000 and has grown to Rs 400 crore (Rs 4 billion) in 2015-2016, says Colonel Shankar, who plans to take the firm public over the next two years.
It employs over 845 people, 570 of them engineers who have been hired from colleges in Tier II and Tier III cities.
Alpha Design focuses on developing its core capabilities, while outsourcing non-core functions.
Colonel Shankar says the opportunity to be a one-stop shop for satellite manufacturing would increase the number of partners and spawn a huge private space industry in the country.
Photograph: Kind Courtesy ISRO