In this era of online commerce and virtual shopping, Raymond Ltd, one of India's oldest textile manufacturers and retailers, has tailor-made an offline strategy to maintain a strong foothold in the tier III and IV towns.

Samreen Ahmad reports.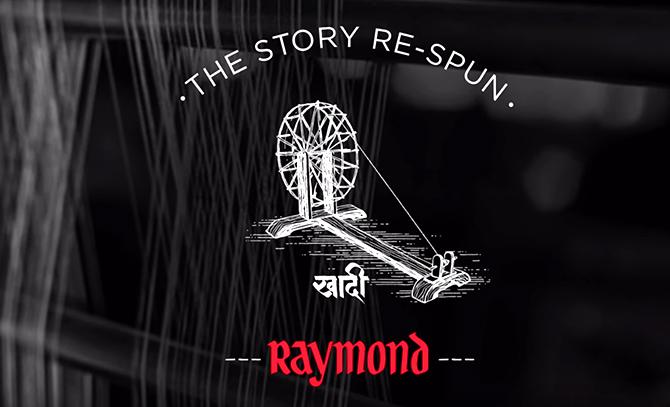 Paul McCartney was known to have said that a good tune was one that one could sing or whistle to, right after one has heard it.
One of the most recognisable tunes associated with an Indian brand is Raymond and its "representative", the Complete Man.
The musical tune that has stood by Raymonds over the decades and has become a signature of the brand is originally from the work Traumerei from Kinderszenen Op 15 by Robert Schumann.
The piece became famous at the end of World War II when radio stations across the world played it to signal the end of the war.
The use of that tune over the years also says a lot about the DNA of the Raymond brand -- and its penchant for tradition. Little wonder, Raymond is refusing to go with the flow.
Even in this era of online commerce and virtual shopping, Raymond Ltd, one of India's oldest textile manufacturers and retailers, has tailor-made an offline strategy to maintain a strong foothold in the tier III and IV towns.
"While the world is moving to a more virtual shopping experience by the day, Raymond is still committed to providing its customers physical retail touch-points closer to their home that enhances experiential shopping," says Sanjay Behl, chief executive officer, lifestyle, Raymond.
With e-commerce giants Amazon and Flipkart looking to spread their hold deep into the semi-urban and rural areas as the next wave of customers will come from these regions, the country is hurriedly moving towards a virtual shopping experience.
According to a report by consulting firm EY India, this market will throw up a $12 billion opportunity for e-commerce majors in the next four years.
Also, internet access in rural and semi-urban areas is expected to reach 45 per cent by 2021 from the current 18 per cent, says the report.
But Raymond refuses to go with the flow.
With a presence in over 500 cities, the company's plan is to expand The Raymond Shop (TRS) across all emerging towns of India by leveraging strong channel partnership as the growth drivers for its Har shahar main Raymond strategy.
With the emergence of over 1,200 new urban towns because of urbanisation, the company sees these as potential Raymond markets.
The new asset-light model requires an investment that is less than a third of a regular TRS -- and this offers the company valuable cash to fuel growth in these emerging markets.
The agile design and modular interiors ensure that the stores are set up within 15 days instead of regular 45 days.
"In addition to the entrepreneurial mindset, the franchisee needs to have a suitable retail space of 600-1,200 square feet and investment of up to Rs 5 million," said Mohit Dhanjal, director, retail, Raymond.
The optimised format TRS also has an integrated digital omnichannel capability, through which customers can access a curated range of products on the online store, Raymond Next.
The over 90-year-old company had piloted its format of mini TRS in September 2016, which was tweaked over six months and was commercially launched in March 2017.
The first mini TRS opened in Bihar's Bihta town.
Since then, over 200 mini TRS have been rolled out in the past 19 months.
"We have leveraged the local knowledge and expertise of entrepreneurial franchisees with a growth mindset," said Dhanjal.
The company is now looking to open its 300th TRS by the end of FY19.
But isn't the company which has several brands such as Park Avenue and Colorplus under its belt, giving up on its exclusivity tag by entering more and more towns?
The company feels this presence won't affect the quality of the brands but rather, provide Raymond a competitive advantage by bringing alive the engaging brand experience to its customers.
Further, these stores continue to add incremental revenue and income to the company since they have opened in completely new markets and towns, said the company.
"Over 90 per cent of the stores opened have exceeded our expectations in revenue generation," claimed Dhanjal.
Raymond has so far introduced a host of new product categories including performance enhancing fabric such as the Techno-Smart series, the all-Natural Linen collection, leveraging new age technology such as 3D printing for accessories, to the latest introduction of Khadi by Raymond.
The diversified Raymond group, which reported a 4.75 per cent increase in consolidated net profit to Rs 652 million for the second quarter ended September 30, said it will continue to offer complete solutions to a men's wardrobe from fabric to readymade garments to custom tailoring in the coming years.
Its revenue from branded textile was at Rs 8.84 billion in Q2FY19, higher by 15 per cent over the previous year led by 14 per cent growth in the suiting business and 17 per cent in the shirting business.
The branded apparel segment sales was at Rs 4.84 billion, up 15 per cent, "driven by strong performance in multi-brand outlet channel along with growth in Raymond and Parx brands supported by new customer segments".