Companies like Ace Turtle are helping brands enable omni-channel retail, bridging the offline and online gap. Abhishek Jejani reports.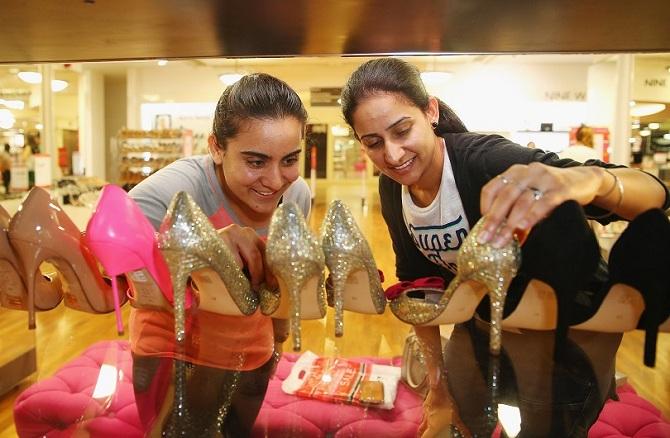 IMAGE: Omni-channel experts are helping brands and retailers seamlessly deliver information and merchandise to consumers 24/7, thus transforming the way retail business is done.
Photograph:

Don Arnold/Getty Images

.
Today, if you walk into a store and find that the store does not have the product you need, then what do you do?
A Bengaluru-based start-up, Ace Turtle, is working with several brands to enable omni-channel retail and tackle this problem. It aims to deliver the product the same day from a store across the city.
Omni-channel retail refers to brands and retailers selling both online and offline.
Last month, the four-year-old start-up co-founded by Nitin Chhabra and Berry Singh, raised $5 million (₹32.5 crore) from Singapore-based Vertex Ventures and C31 Ventures, the venture capital arm of CapitaLand, in a Series-A round of funding. It had also raised $300,000 in a pre-Series-A round from a host of angel investors.
"The business model has gone in our favour. The online market is growing, which will have a major impact on our business. We are a part of the high-growth industry, but do not have the burn rate of what a typical B2C (business to consumer) has," says Nitin Chhabra, chief executive officer and co-founder, on clinching the funding.
"Their previous industry experience has also come in handy as they are very well aware with the whole sector," says Ben Mathias, managing director and India head of Vertex Ventures.
Prior to this, Chhabra was at the helm of Brooks Bros, Thomas Pink and Iconix Brand Group, whereas Singh was the business head for Timberland, GAS and Dune.
Concept
Ace Turtle's platform, Rubicon, integrates online and offline retail channels and enables e-commerce. Its omni-channel platform comprises technology, logistics and customer support, which enables brands and retailers to improve the experience of customers.
The company aims to help reduce the costs and complexity of omni-channel transformation for offline businesses.
"Traditional online brands have correctly recognised the need to be omni-channel. The reverse unfortunately is not true for offline brands. Most offline brands do not even have a branded website active in India. This includes global brands that have several hundred physical stores in India, but still do not sell directly online. They rely on third-party marketplaces to sell a limited catalogue of their products. The same holds true for much of Southeast Asia and the Middle East," says Mathias.
The company's clients include brands such as Puma, Ray-Ban, Max, Arrow, Flying Machine, Ed Hardy, US Polo Assn and Fossil. It also helps brands build their websites.
Opportunity
A Boston Consulting Group report estimates the Indian retail market to reach $1,000 billion with web-influenced retail constituting $250 billion of the total. Omni-channel presents the biggest growth opportunity in the retail sector.
According to E&Y's supply chain survey, it is estimated that the omni-channel shoppers spend almost twice in comparison with those who shop only at stores.
Revenue
The company makes money by charging a monthly subscription fees to brands, and also gets a small share of revenue it generates for them.
It provides other value-added services, which are an additional source of income for the company. It offers cataloguing services and digital marketing expertise to attract traffic.
"Currently, we are doing a business of $2.5 million a month, growing approximately 35 per cent month-on-month. We should achieve break-even in another two years," says Chhabra.
Road ahead
With offices in Bengaluru and Singapore, the start-up plans to use the proceeds of the funding round to build its leadership team, augment the technology platform and expand its customer base in India and overseas. It aims to double the number of brands and employees from 20 and 100, respectively. It also plans to start its operations in Singapore and Malaysia by the end of this year.
"The biggest challenge we face in India today is the opposition to a new way of doing things. While omni-channel is a term that everybody can define, the acceptance and implementation of transparent practices and seamless execution is still a top management dictate," says Chhabra.
"Such a challenge can be overcome by facilitating brands with the know-how of actual implementation," adds Chhabra.
"As they expand across geographies they need to focus on sales and marketing and ensure that technology is scalable," says Mathias.
Omni-channel retailing is the future
Multi-channel retailing, across bricks-and-mortar stores and e-commerce is a reality today, but each channel still offers a different experience from the other, even for the same brand.
Omni-channel retailing -- where a consumer has the same experience across all the touchpoints -- is the future of retail.
Many Indian brands and retailers are trying to navigate their way through this complex landscape because that is where their consumers are heading, with their wallets.
Ace Turtle is helping brands and retailers seamlessly deliver information and merchandise to their consumer's fingertips, 24/7 thus truly transforming the way the retail business is done. Ace Turtle will grow rapidly as new paradigms become established ways of doing retail businesses.
While Ace Turtle grows rapidly, it is important that they keep their focus on some old-fashioned good business practices -- taking onboard the right people, building robust internal processes and systems and fostering the right culture to deliver customer delight and provide expert guidance and solutions in this rapidly changing and complex retail landscape.
-- Expert take by Vineesh Chadha, Partner, Vivrddhi Consulting