Action against auditors, last of the 276 recommendations of a JPC probing Ketan Parekh scam, is still pending.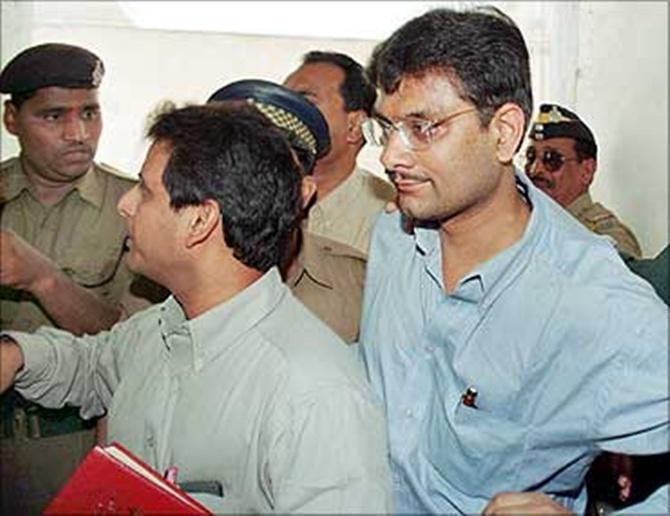 On December 19, 2002, the Joint Parliamentary Committee (JPC) on stock market scams and related matters, which was probing the so-called Ketan Parekh scam of 1999-2001, presented its report in Parliament with 276 recommendations.
Over several past years, various government bodies and regulatory agencies have come together to implement 275 of those. But one matter continues to be pending and there are few signs that it will be completed anytime soon. That recommendation is: "Action (by Institute of Chartered Accountants of India, or ICAI) against bank auditors for dereliction of duty."
The issue pertains to the auditors of the erstwhile Global Trust Bank (GTB), which had almost collapsed after it was found the bank was allegedly involved in a stock market scam that Parekh masterminded.
After the JPC recommendations, the Reserve Bank of India (RBI) had in 2004 given ICAI detailed information on alleged irregularities in the books of GTB. These related to three financial years - 2000-01, 2001-02 and 2002-03. Seven partners of Price Waterhouse & Co and Lovelock & Hewes, both Kolkata-based audit firms, were under probe.
As part of its probe into their role, ICAI had in May 2005 sought responses from the GTB auditors. But the matter, caught in multiple hearings, adjournments and court cases, has been crawling for over a decade now.
That action should be taken against auditors was the last of JPC's 276 recommendations. According to the 23rd action-taken report put out by the finance ministry on June 15 this year, "in the 22nd progress report, action was completed on two recommendations and action was pending on one. In this 23rd progress report, there is no change in status and action is pending on one recommendation".
At a time when the investors affected by the National Spot Exchange Ltd (NSEL) payment crisis are aggrieved by ICAI's handling of the issue, the institute's inability to take action against the GTB auditors, even after 10 years, puts its role as a quasi-judicial body under question.
A senior bureaucrat familiar with the working of the body says: "It (ICAI) is an elected body required to perform quasi judicial functions. It is like asking Parliament to perform the functions of a high court."
An ICAI spokesperson did not answer an email questionnaire sent last Monday. Several text messages, phone calls and an email reminder on Saturday were not responded to.
In a recent interview with Business Standard, ICAI President Manoj Fadnis had said there was no fixed timeline for deciding such cases against members and the process could be delayed because of several rules and procedures prescribed in the Act.
Among the GTB auditors whose roles are being probed by ICAI are Lovelock's S Gopalakrishnan, P Ramakrishna and Manish Agarwal, who audited the bank's books in 2000-01. The same firm's Kersi H Vacha and Amal Ganguli audited the books the next year, and Price Waterhouse's Partha Ghosh and D V P Rao were responsible for auditing in 2002-03.
GTB has since been merged with Oriental Bank of Commerce, a public-sector bank.
To a query from Business Standard, a spokesperson for Price Waterhouse said in an emailed response: "We understand the various proceedings... against the individuals referred to are at various stages of determination at ICAI. According to our knowledge, all the individuals related to Lovelock & Lewes have retired or separated from the firm. Partha Ghosh and D V P Rao continue to be associated with PricewaterhouseCoopers," the spokesperson added.
Among these auditors, Gopalakrishnan was arrested later for alleged negligence in the audit of Satyam Computer Services' books (a different case).

Even as the public mood turned against auditors in the aftermath of the Satyam scam, things began to move a little faster in the GTB probe as well. But the auditors filed several petitions in courts.

These included a contempt-of-court plea against ICAI's disciplinary committee. By the time the status report as of then came in May 2010, the proceedings for all three years had progressed significantly and were in advanced stages.

In fact, by early 2010, ICAI had pronounced Ramakrishna and Agarwal guilty of professional misconduct and recommended suspension of their membership for five years and three years, respectively.
In 2006, certain provisions of the ICAI Act were amended but the proceedings in this case were being conducted under the original Act.

In 2010, however, Ramakrishna won an appeal in the Delhi High Court that concerned difference between definitions of the terms 'information' and 'complaint'. Accordingly, it was required that the proceedings after a certain stage be done afresh under the new law.

So, by the time a division Bench overturned that decision, another two years had been lost. Following this, towards the end of 2012, final orders were passed for the years 2000-01 and 2001-02, pertaining to five Lovelock partners. Their memberships were suspended for three to five years. But Ramakrishna moved the Supreme Court challenging the division Bench decision.

The apex court granted an interim stay on any final order against Ramakrishna, pending the final decision in the appeal.
This seems to have delayed the proceedings against PW auditors Ghosh and Rao, too. Ghosh and Rao had moved the Bombay High Court seeking to stall action against them till Ramakrishna's petition was decided by the Supreme Court.

The writ was "dismissed by the high court on October 15, 2013, with the direction that the inquiry be conducted not before December 17, 2013.

"Further, on the request of the petitioners - Partha Ghosh and Anr - the stay granted till December 17, 2013, was extended up to January 15, 2014. The next hearing in the matter was fixed in April 2014 but could not take place due to the Lok Sabha elections. Now, the hearing will be fixed after June 2014," the 23rd status report said.

Though the Supreme Court had directed the matter be posted for hearing within a year, it did not come up. ICAI has filed a petition seeking an early hearing.