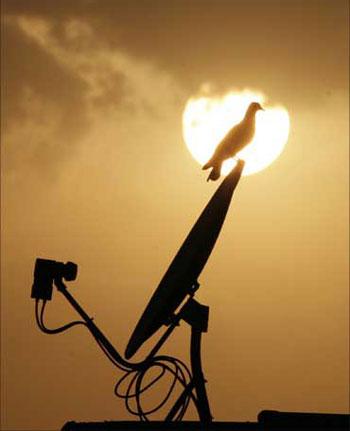 As the government finalised decisions on the base fee for spectrum auction and eased the merger and acquisition rules, it had begun to seem the troubles of the telecom sector were finally starting to end.
That is not to be. The high court here recently allowed Union comprtoller and auditor general (CAG) to investigate the revenue sharing model of private operators. Very few analysts are convinced the latter will emerge clean.
Especially after the results of audits conducted earlier. The department of telecommunications (DoT) audited five companies-Bharti Airtel, Vodafone India, Reliance Communications, Tata Teleservices and Idea Cellular - in 2007-08.
"Private auditors appointed by DoT said the five telcos together understated revenues by around Rs 1,030 crore in these two years. Based on audit findings in mid-2012, DoT imposed penalties of Rs 1,600 crore," said a report by HSBC.
Operators pay six to ten per cent of annual revenue as licence fee. Aslo, two to three per cent as spectrum usage charges. "Most operators have been under-reporting revenue. There could be some negative surprises," commented Mahantesh Marilinga, senior research analyst at Finquest.
Reports by CAG earlier on the 2008 telecom licence scam had resulted in the cancellation of 122 licences. This time the results might not be as grave but analysts do expect some penalty on a few operators.
Telecom stocks of all listed companies had fallen since a CAG audit into private companies was legalised. Airtel fell 0.7 per cent, Idea by one per cent and Reliance Communications the most, at four per cent. "Whenever these long-drawn audits start, there will be pressure on the stocks. There could be a reversal of re-rating of the sector," said Marilinga.
With increasing data revenues and reduced competition, many analysts were predicting a good run for the stocks. They were also expecting good performance in the third quarter but these fortunes could be reversed.
"Revenue per minute should continue to inch up despite the absence of a headline hike, as headroom remains for reducing discounts, given that realisation is still 20-35 per cent lower than the headline rate. Wireless revenues should rise two to four per cent quarter-on-quarter for Bharti and Idea," predicted a Citi report.
Mahesh Uppal, director of ComFirst India, said telcos would be relieved to come out of the audit unscathed. "The decision to require a CAG audit is certainly a setback but the serious players should gain from the focus on increased transparency that the audit also implies," he said.