Telecom operators have proposed installing 29,700 telecom towers for 3G services in the next two years, Parliament was informed on Wednesday.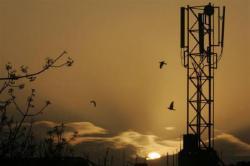 According to the data tabled by Minister of State for Communications and IT Milind Deora, there is proposal to install 16,526 base transceiver stations (BTS), generally called as towers, for 3G services in 2012-13. As many as 13,174 BTSs would be installed during 2013-14, according to the data.

The Minister in a written reply informed the Lok Sabha that 96,212 BTSs have been installed to provide 3G services in the country.

The proposed plan of telecom companies for 2012-13 include installation of 4,026 3G-enabled BTSs in Karnataka followed by Tamil Nadu with 1,715 BTSs, Bihar 1,703, Delhi 1,488, Mumbai 1,085 and Rajasthan 1,004 BTSs among others.

The proposal for 2013-14 includes 2,740 BTSs for Delhi circle, followed by 1,550 in Andhra Pradesh and 1,399
BTSs in Mumbai among others.
At present, Tamil Nadu circle has maximum of 9,350 BTSs for 3G services, followed by Delhi with 8,405 BTSs, Maharashtra (excluding Mumbai) with 8,377 BTSs. Mumbai had 6,622 BTSs for 3G services as on November 30, 2012.
Deora informed that 610 districts are being covered by 3G services in the country.
As per present norms, telecom operators that have won 3G spectrum in 2010, are required to provide street level coverage in at least 90 per cent of service area in metros within five years of the date they were allocated 3G spectrum.
For rest of the country, telecom operators are required to cover 50 per cent of district headquarters (DHQs) which should be 90 per cent of the area bounded by municipal or local body limits within five years.