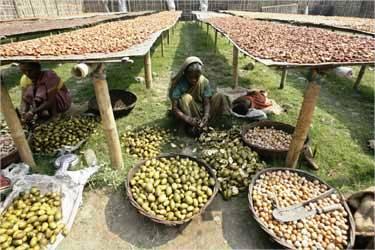 With Prime Minister Narendra Modi lending currency to 'second green revolution', experts feel that technology intervention and improvement in infrastructure are key to higher agricultural production.
"Conventional cultivation will not be able to meet the food demand of our growing population. Shrinking land, declining water level, environmental problem can only be addressed through technology intervention.
"This is where biotechnology, genetically modified crops and marker assisted breeding technology will help," G Padmanaban of Indian Institute of Science, Bengaluru, told PTI in Mumbai.
He said statistics of the last three years showed that the yield has declined and the rate of population growth is faster than the agriculture growth.
India is going to exceed China in population growth in 15-20 years and reach 1.6 billion by 2030, he predicted.
He was also of the view that green revolution and technology use should not be region-specific.
"Technology should be used across the country, but the variety of the crops should be region-specific, depending on the soil condition of that region," he added.
Indian Council of Agricultural Research Director Dr K C Bansal couldn't agree more. He said the 'second green revolution' is essentially required to meet the growing demand of people both due to increase in population and income levels.
Biotechnology, he felt, has a major role to play in ushering in second green revolution in a sustainable way and this could be termed as 'green green revolution'.
"With the advent of modern tools of biotechnology, it has become possible to address those challenges of agriculture like climate change, control of pests or malnutrition, which have been difficult to be overcome by conventional plant breeding methods.
"Globally, GM crop technology has fuelled development of transgenic crops with traits such as resistance to insects, herbicides and enhanced nutritional quality in several crops," he added.
The Association of Biotech-led Enterprises-Agriculture Group Director General Ram Kaundinya said the first green revolution was driven by cereals, which included primarily rice and wheat.
"To achieve second green revolution, we need to focus on improving the yield of oil seed and pulses, which are necessary to achieve food security in our country.
"We need to focus on improving yield of rice, wheat, maize and other crops where we are behind when compared with the global standard.
"While we don't see the immediate shortage in rice and wheat crops, we need to produce more with growing population and increasing food demand," he said.
It's, therefore, important to promote and use modern method of technology with improved agronomic practices (soil condition, correct use of fertilisers and pesticides) with minimum impact on environment to improve productivity.
Encouragement of private players in agriculture with improved extension services, modern technology and machinery and good infrastructure support will help in achieving second green revolution, Kaundinya said.
"We need to improve our infrastructure support system in terms of better road and rail connectivity, warehousing and storage facilities, which are in poor condition currently.
"We need to provide support to farmers, especially for storage of foodgrain," he added.
Image: Labourers cut betel nuts at a cottage industry in Choto Shalkumar village, about 160 km (99 miles) north of Siliguri. Photograph: Rupak De Chowdhuri/Reuters