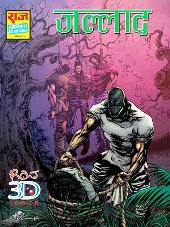 Little Eric does not have to peer into comic books to read the adventures of his hero-Nagraj.

He can now lean back and let the comic play itself with sounds and dialogues -- on his mobile phone.

Mobile content provider Planet 41 Mobiventures says that it sells as many as 10,000 'motion comic' books per day.

It has the rights for mobile versions of titles offered by Raj Comics -- like Super Commander, Doga, Hitchiker and others.

These comics are available in Hindi and English.

Somil Gupta, co-founder of Planet 41 Mobiventures said that they were hitting notes of new-age consumers who prefer digital content over print editions.

The price difference too helps. The print editions of these comics range from Rs 50-100, whereas the digital versions are sold at Rs 10 per book.

The company has two versions of comics on mobile.

The non-animated version is simpler where  they expand the text bubble of the comic to make it easier to read.

In the animated version, it takes away the text bubble, and re-draw the vacuum that it creates.

It also lip movements and hand movements to these comics, and use voice artists to spell the dialogue.

The company also adds sound effects like lighting, explosion effects.

"This is done in the US by Marvel Comics, but no one does it in India," said Gupta.

Currently, the books are available for Tata Docomo and Idea Cellular customers.

The company is planning on expanding it across operators, soon.

The comic book will be delivered in the form of a URL via an SMS.

The comic opens on a WAP browser, and works only on the mobile.

Since the company has no means on charging the consumer online, the URL cannot be used on the computer.

"People would not want to use their credit cards for such small amounts. On the mobile, it will get deducted from the pre-paid balance or add to the bill," said Gupta.

Gupta feels that URL is a better form of delivery than creating an application.

He feels that charging and selling is tougher as many forms of the applications across platforms like Android, iOS have to be created, and also duly promoted.

"Now we can go directly promote the content," he said.

The comics sell quite well in the North like UP, Punjab, Delhi and Uttaranchal where Raj Comics are popular.

Planet 41 wants to expand it to the South by translating them in Tamil, Telugu, Kannada and Malayalam. Also, these comics are directed towards children who are older than ten years.

The company wants to gain consumers across age groups with more titles.

It is in talks with Diamond Comics which has famous characters like Chacha Chaudhary, Pinki, Shaktimaan and Captain Vyom.

They want to bring in Lotpot comics on mobile as well, and cater to children who are as young as six or seven.
Photograph, courtesy: www.rajcomics.com