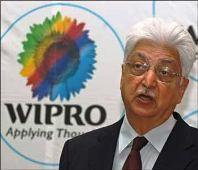 The consumer products arm of the Bengaluru-based Wipro Ltd plans to relaunch Aramusk, one of the oldest male deodorant soaps, which it had acquired from Mumbai-based contract manufacturer VVF Ltd in June.

Vineet Agrawal, president, Wipro Consumer Care & Lighting, said the company was studying the men's personal wash market and would look at a relaunch in a few months. "Aramusk has a latent equity. That can be tapped," he said.

The move comes at a time when the company is looking to strengthen its position in soaps.

The consumer products firm, which contributes about nine per cent to Wipro's overall revenues, has been fighting for the number three slot, which it had lost to British consumer goods maker Reckitt recently.

The latter has a share of close to nine per cent on the back of germ-fighter Dettol.

Wipro, with brands such as Santoor and Chandrika, has a share of 8.2 per cent in the soap category.

The number one and two players in this Rs 9,000-crore (Rs 90-billion) category are Hindustan Unilever and Godrej Consumer Products Ltd at 45 per cent and 10.1 per cent, respectively.

With an entry into men's personal wash, Wipro will take on Godrej's Cinthol, which has traditionally enjoyed a strong equity with men.

Cinthol in the past has had actors such as Hrithik Roshan and Vinod Khanna and cricketer Imran Khan as brand ambassadors.

For Wipro, the relaunch of Aramusk, say market experts, will be important as it seeks to add the much needed diversity to its portfolio.

While the company does have a beauty soap (Santoor), ayurvedic soap (Chandrika), baby soap (Wipro Baby Soft), shikakhai soap (Wipro Shikakai) and liquid soap (Enchanteur), Agrawal admits the latter three are small. An entry into men's personal wash, pegged at close to Rs 500-600 crore, will give it crucial legroom in a segment that is growing that about 16-20 per cent per annum.

The men's personal wash segment (also called the male grooming category) apart from soaps includes deodorants, creams, after-shave lotions, perfumes, gels etc.

An entry into this category will allow Wipro to look at allied extensions, something that players such as Godrej have done successfully.

Cinthol, for instance, has talcs and deodorants besides soaps in its portfolio.

While Wipro does have male grooming products under Yardley and Romano, its past acquisitions, that portfolio is not large.


Image: Wipro Chief Azim Premji