Wipro Ltd, India's third-largest software services provider, forecast on Friday weaker-than-expected revenue for the June quarter, including a possible decline in revenue.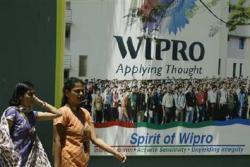 Wipro, whose customers include Citigroup Inc and Apple Inc, projected first-quarter revenue for its IT services business to be in a range of $1.58 billion to $1.61 billion - a decline of 0.6 per cent to a rise of 1.6 per cent over the previous quarter. That compares with a rise of 1 to 4 per cent that analysts were expecting.

In its fourth quarter ended March 31, consolidated net profit rose 17 per cent to Rs 1,729 crore (Rs 17.29 billion) from Rs 1,481 crore (Rs 14.81 billion) a year earlier, Wipro said.

That was in line with the Rs 1,700 crore (Rs 17 billion) average of 19 brokerage estimates according to Thomson Reuters I/B/E/S. Fourth-quarter revenue rose 13 per cent to Rs 9,610 crore (Rs 96.1 billion). Revenue for discontinued operations was Rs 1,412 crore (Rs 14.12 billion).

Wipro
is the last of India's major software services providers to report results for the latest quarter.
Industry leader Tata Consultancy Services Ltd on Wednesday reported profits that were roughly in line with estimates and said the company would grow faster than the industry in the current fiscal year.
Second-ranked Infosys on April 11 missed expectations with a full-year dollar-revenue forecast of 6-10 per cent. That dimmed investor hopes that it will soon benefit from a strategic revamp aimed at boosting revenue from software products and consultancy-led services.
On Wednesday, fourth-ranked HCL Technologies Ltd reported March quarter profits and revenue that beat analysts' estimates after it cut staff for the second quarter in a row.
Shares of Wipro did not trade on Friday because Indian financial markets were closed for a public holiday.
(Aditional reporting by Prashant Mehra)