Squeezing growth prospects in IT services firms and higher compensation in technology centres run by global companies are the two factors driving this trend.
Illustration: Dominic Xavier/Rediff.com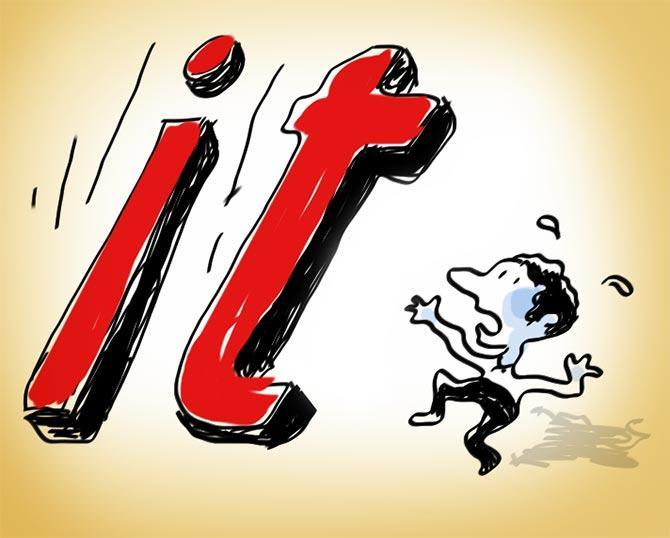 Indian information technology (IT) engineers are increasingly opting to work in global capability centres (GCCs) run by multinational corporations such as JPMorgan, HSBC, and Airbus, among others, over software services firms.
Experts are of the opinion that squeezing growth prospects in IT services firms and higher compensation in technology centres run by global companies are the two factors driving this trend.
According to a study done by Nasscom and consulting firm Zinnov, the employee base of all such technology centres touched the 1-million mark by the end of 2018-19 (FY19), compared to 750,000 in 2014-15 (FY15).
The addition of 250,000 employees was mostly from pure-play IT services firms since India has seen higher number of captives working in the IT-BPM space over the years.
"In the IT services industry, growth is coming down. To be a project manager, it takes an engineer around 10 years, against the earlier five to six years.
"Salary increments have also come down over the years," said Krish Lakshmikanth, founder of recruitment firm of Head Hunters India.
"Since the captives are paying 25 per cent more than software services firms, these are emerging attractive workplaces for IT professionals."
According to the Nasscom-Zinnov report, the market size of MNC technology centres touched $28.3 billion in FY19, against $19.5 billion in FY15.
While engineering, research & development (ER&D) GCCs contributed $15.7 billion to the overall market size, IT-BPM had a share of $12.6 billion.
"In the ER&D captive space, professionals always prefer companies like Amazon, Google over pure-play software services firm.
"Now, this phenomenon has caught up in the IT-BPM space, as growth opportunities are coming down in the IT industry," said Pareekh Jain, an outsourcing advisor & founder of Pareekh Consulting.
"The distinction between IT-BPM GCC and ER&D GCC is also blurring, as technology becomes the core function of all firms," Jain added.
India is home to 1,250 GCCs, with Chinese smartphone maker Oppo and Vivo, along with US-based Koch Industries and Australian software firm, Atlassian, being the new entrants.
The country has also seen eight global unicorns, including Grab and Go-Jek, setting up their technology centres in the country.
Experts working in the human resources (HR) area said that the changing narrative with regard to onsite opportunities for IT engineers is another driving factor for techies to opt for technology centres of MNCs.
"With restrictions on H1B visas, the employee inflow to GCCs has increased in recent years. Also, average salaries paid by GCCs will be higher in the range of 10-40 per cent over the IT firms," said Supaul Chanda, business head (digital) at Teamlease Services.
Even IT services firms have flagged concerns relating to lack of onsite opportunities, leading to higher attrition.
Companies like Infosys, which has seen its attrition level hovering around 20 per cent, had said that designing a better career path could be one of the alternatives for employee stickiness.
"Rising attrition in many IT firms can be linked to preference of techies for GCCs and start-ups. High growth opportunity in other sectors is definitely a big factor," said Jain.
HR professionals said that as employees with certain years of experience are preferred by captive technology centres, which is linked to attrition levels of IT firms that are witnessing most exits happening in three to eight years' experience range.
"GCCs take freshers from Indian Institutes of Technology, National Institutes of Technology, and Indian Institute of Science, which is around 25 per cent of the total additions.
"Also, there are many Indians, who are coming back from other geographies to India within the same company.
"So, around 65 per cent of total hiring is lateral hiring from other Indian firms," said Lakshmikanth.