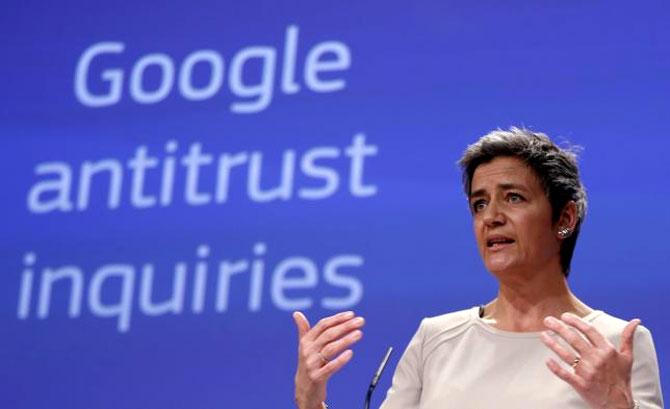 In EU Competition Commissioner Margrethe Vestager, who has kickstarted the long-pending anti-trust investigation into Google, the internet search giant may have finally met its match.
My kids or myself never consider for a minute this (Google) is a US company or a European company. The reason we use it is that Google has very good products," says European Competition Commissioner Margrethe Vestager. "It's in our language. If you look for something you say, 'Let me google it'. ... I think you should congratulate a company that is so successful."
High praise, but that shouldn't blind anyone, least of Google who Europe's top anti-trust regulator accused on Wednesday of favouring its own search results over those of its competitors -- a violation of European laws -- to the toughness behind the words.
That Vestager means business can be seen from the fact that she has breathed life into the investigation against Google in under six months, something her predecessor, Joaquin Almunia, put off for five years, much to the fury of some big EU governments.
Vestager's praise for the innovative Californian company's hugely popular services echoed a mantra of fairness and independence from political and corporate lobbying on all sides. The 47-year-old Dane has clung to that mantra since becoming competition commission in November -- a job that makes her among the most powerful figures in global business, with a power she now seems determined to exercise across many issues.
The European Union has accused Google Inc of cheating consumers and competitors by distorting Web search results and also launched an antitrust probe into the Internet search giant's Android mobile operating system. It is the third US tech company in 10 years to become the target of a high-profile EU investigation, the last to face music being Microsoft.
In a cool performance, alternating charm and combativeness, Vestager, a liberal former Danish economy minister, dismissed suggestions she was dancing to the tune of Germany -- the EU's largest economy - and scoffed at the thought she might ever meet US President Barack Obama, who accused the EU of tech protectionism this year.
"The more politics around the case, the more we have to stay on track when it comes to facts," she said, six weeks after having met Google's executive chairman, Eric Schmidt, to hear his views.
Google rejected her accusations. It said it has contributed to the growth of small businesses and competitors and was less dominant in new-style mobile services -- arguments that helped fend off an investigation by the US Federal Trade Commission, whose chairwoman, Edith Ramirez, Vestager will meet in Washington on Thursday.
The company may hope the EU commissioner is true to her word in resisting the anti-Americanism prevalent in parts of Europe and anti-Google sentiment among US rivals. But as she settles in for a five-year mandate and a string of other high-profile cases, Vestager appears confident she can avoid disappointing expectations that she will oblige Google to compromise, either through a settlement or, ultimately, via victory in the courts.
Marlene Wind, a political science professor at the University of Copenhagen, told the Washington Post that Vestager is known to be a tough cookie, and Google should not underestimate her.
The newspaper, however, added that despite her tough tactics, Vestager is regarded in Denmark as warm and possessing a dry wit. Back home in Denmark, she is known as the Queen of Twitter for her impressive social media presence, as well as Queen Margarethe III -- for the power she wielded as the economic minister as a member of the Radicals, Denmark's centrist political party.
Vestager said the US company, which dominates Internet search engine markets worldwide, had been sent a Statement of Objections -- effectively a charge sheet -- to which it has 10 weeks to respond.
Investigations into Google's business practices in other areas would continue. The shopping case, on which the EU has had the most complaints dating back the longest time, could potentially set a precedent for concerns over Google's search products for hotels, flights and other services.
Her findings follow nearly five years of investigation and abortive efforts by her Spanish predecessor, Joaquin Almunia, to strike deals with Google.
"I am concerned that the company has given an unfair advantage to its own comparison shopping service, in breach of EU antitrust rules," she said.
Google could face fines, she warned, if the Commission proves its case that it has used its "near monopoly" in Europe to push Google Shopping ahead of rivals for the past seven years.
If found guilty, the US tech giant could be fined up to 10 per cent of its revenue, or $6.6 billion.
A statement of objections -- which lawyers say usually leads to fines -- allows Google to study the evidence against it, reply in writing within 10 weeks and request an oral hearing at which it can defend itself in front of the Commission's competition officials behind closed doors.
Following a hearing, the company can either offer legally binding commitments to change its behaviour -- thereby avoiding a hefty fine -- or refuse to settle, in which case the Commission can impose a fine and order it to change its business practices.