Smartphones are increasingly enabling enterprise applications like SFA, ERP, and CRM to go mobile. With higher bandwidth available through 3G networks, this trend would enable more enterprises to offer their enterprise applications on the mobile platform, writes Varun Aggarwal.
From Motorola's DynaTAC 8000X (the first mobile phone that weighed about two pounds) of the 80s, to today's iPhone 3GS, mobile phones have come a long way from being just a means of communication via voice calls to becoming a mobile computer for accessing corporate mails, working on office files and even accessing enterprise applications like Sales Force Automation and CRM.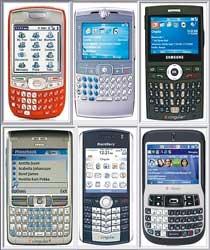 Enabling enterprise applications on mobile phones can potentially result in varied benefits. Enterprise customers can anticipate enhanced productivity, streamlined, efficient operations within and outside the enterprise, as well as cost reduction.
For instance, the use of mobile CRM ensures that critical customer-related sales and other information is updated in real time from the mobile device to the corporate CRM system. This also provides the opportunity for lead generation and on-the-fly management.
Growth drivers
The smartphones market is driven by the need for enhanced productivity by ensuring that even remote employees have all the information they need to respond to customer queries in improved response times.
With increasing competition, enterprises are challenged to discover methods to improve their customer service. Enterprises also require better accessibility of their mobile workforce. Due to the need for streamlined and efficient business operations, companies equip mobile employees such as sales personnel with corporate business applications.
Larger screen sizes in touch-based phones like the iPhone make it easier to work on a larger domain of applications.
There are however, security concerns related to using smartphones. Security was also an area of concern during the transition to notebook computers. However, the loss of the mobile device remains a larger issue in the mobile space. In comparison, the potential for contracting viruses remains limited on the mobile platform.
Lavanya Palani Batcha, Senior Research Analyst, ICT Practice, Frost & Sullivan, South Asia & Middle East, says, "One of the major restraints in the adoption of enterprise mobility is the concern about security. Enterprise executives are typically wary of compromising sensitive corporate data by enabling mobile devices. High replacement costs to be borne in case of loss of mobile devices, viruses and spam are also seen as significant deterrents."
However, service providers and device manufacturers are working towards ensuring utmost security for mobile enterprise application users through data encryption, user password authentication, restricted read-and-write
access and by enabling the ability to control and remotely wipe out data in case of device thefts. Some of these applications come bundled with the desktop versions of security applications.
Mobile operating systems
Mobile Operating Systems are becoming increasingly sophisticated by offering the ability to run multiple applications in the background and taking advantage of the growing computing power on the device. Some of today's smartphones are more powerful than a five-year old PC - in terms of their capabilities and computing power.
Though Symbian continues to rule the mobile market, the biggest thing to look out for at the moment is Google's Android mobile platform. With the formation of the Open handset alliance, Android - which is an open source operating system—is expected to gain traction with players like HTC releasing Android-enabled phones in India.
Android will enable the development of an open ecosystem which will result in a lower cost of handsets, customizable features and simpler integration into a standard OS system.
Batcha explains, "With regard to the enterprise customer who relies on organization-based applications like To Do lists, Calendars etc, the application portfolio available on the Android marketplace will act as an attractive value proposition. Also, the lower cost of handsets can translate into enterprises having more of their middle-level management adopt smartphones and thus enhance productivity and improve one's work-life balance."
The way ahead
As GPS becomes a common feature in smartphones, Location-based services such as fleet tracking systems which enable enterprises to identify and track goods by way of directional maps, and GPS coordination are expected to witness better adoption in the coming years.
Presently, these services are yet to attain significant traction largely due to poor content development. Players like Navteq are working with various stakeholders in the mapping space to develop maps and routing data for India, which would be more localised and would understand non-standard address schemes used in the country.
LBS are already being used by many organisations to track their assets. With a growth in GPS-enabled phones, this technology would soon start to leverage the ubiquitous device - the smartphone.
With the launch of 3G on the MTNL and BSNL networks, high-capacity bandwidth is already available for enterprise applications. As 3G is launched on other networks as well, there would a spurt in enterprise applications on the mobile platform. The result - more workforces can go mobile.