Companies might have to shell out a fourth of the industry's annual net revenue to clear the obligation

To clear the penalties, as well as charges demanded on various accounts by the Department of Telecommunications (DoT), telecom companies may have to shell out a staggering Rs 38,500 crore (Rs 385 billion).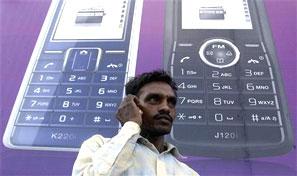 Besides fines for alleged violation of radiation norms, matters related to subscriber line data (SLD), penalties for offering 3G services through intra-circle roaming (ICR) pacts without possessing the required licences, DoT also asked operators, in January this year, to pay a one-time fee.
It was decided in November last year that incumbent GSM operators would have to pay for holding spectrum above 6.2 MHz retrospectively (from July 2008 to December 31, 2012).
For spectrum above 4.4 MHz, telcos would have to pay for the remaining period of their licences (starting January 1, 2013). CDMA operators would have to pay for holding spectrum beyond 2.5 MHz. No company has paid the fee so far.

Many of the fines imposed have been challenged in various courts. But if telecom companies were to pay all of those, the money they would have to pay would be about a fourth of the sector's annual net revenue. The government also gets more than Rs 16,000 crore (Rs 160 billion) on account of spectrum charges and licence fee from telcos every year.

The Association of Unified Telecom Service Providers of India (Auspi), which lobbies for dual-technology operators, has estimated the total penalty on telecom companies at Rs 6,500 crore (Rs 65 billion).
Of this, about Rs 1,900 crore (Rs 19 billion) had been imposed on the industry over issues related to electric and magnetic field (EMF) or radiation. About 1.2 per cent was for actual infringement of norms, while 64 per cent was for late submission of certificates and trivial issues, Auspi Secretary-General Ashok Sud had told DoT Secretary M F Farooqui at an event organised by industry body Assocham early this week.

In response, Farooqui had said the level of penalty was alarming, and DoT would "very quickly" set up a system to rationalise penalty and mechanism for appeal.

The Cellular Operators Association of India (COAI), which lobbies for the incumbent GSM operators, has also written to DoT several times against penalties.

In 2012-13, telecom operators' cumulative debt burden increased more than 200 per cent to about Rs 2.5 lakh crore from Rs 82,726 crore in 2008-09.

The Supreme Court (SC) has already restrained Bharti Airtel, Vodafone India and Idea Cellular from adding new 3G customers in circles where they provide 3G services through intra-circle roaming (ICR) agreements among themselves. The matter has yet to be settled.

Companies have repeatedly said that 3G ICR arrangements were in compliance with all regulations and all relevant details had been provided to authorities.