TCS is setting up a large BPO operation in Varanasi next year, some staff could be absorbed there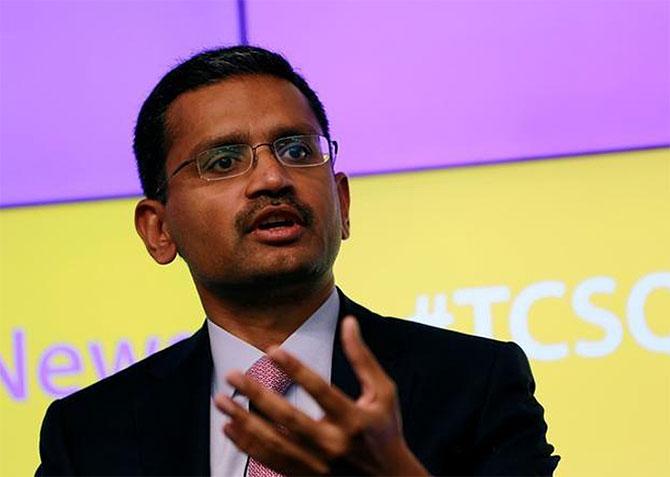 Image: Tata Consultancy Services Chief Executive Officer Rajesh Gopinathan speaks during a news conference announcing the company's quarterly results in Mumbai, India, July 13, 2017. Photograph: Danish Siddiqui/Reuters

India's largest information technology (IT) services firm, Tata Consultancy Services (TCS), is shutting its Lucknow centre as part of a consolidation of its Uttar Pradesh (UP) operations and has asked its more than 1,000 employees to move to Noida centre and other sites in the country.
"We are consolidating our UP operations. There have been no job losses," said Rajesh Gopinathan, chief executive and managing director of TCS, on Thursday. He said that people were being asked to move to larger operations in Noida, where they would get better opportunities to work.
TCS is also setting up a large BPO (business process outsourcing) operation in Varanasi, Prime Minister Narendra Modi's constituency, next year and some of these staff could get absorbed by that centre.
The 10-year-old facility in Lucknow's Gomti Nagar does internal processes for TCS and has a small team that works on projects for global clients.
The closure will take time and jobs of each of these employees would be retained.
TCS employees in Lucknow were briefed about the development on Wednesday, following which they have petitioned UP chief minister Yogi Adityanath and Modi for their intervention.
A group calling themselves SaveTCSPlease has drafted a letter to these leaders claiming that 2,000 employees, half of them women, would get affected by this shift by TCS.
The letter signed by "TCS Lucknow employees and their dependents" said that 300-400 employees will be retained on the Lucknow premises and most of the existing projects would be transferred to the upcoming premises in Indore.
They have alleged that employees are being forced to transfer to other cities now.
While TCS has maintained that there are no job losses, the development shows the pressure on Indian IT firms to cut costs and maintain profitability in an uncertain environment.
Indian firms such as TCS, Infosys, Wipro, HCL Technologies and Tech Mahindra are facing multiple challenges such as technology shifts towards cloud and digital, growing automation that is taking away low-end jobs and protectionism in developed markets.
All of these companies have begun restructuring their operations, some of them asking people to leave, citing failing performances.