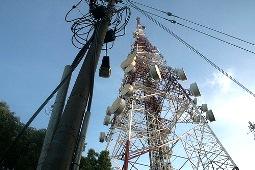 An audit by the Department of Telecommunications has found some telecom service provides aren't using spectrum efficiently, either in the 900-MHz band or the 1800-MHz band.

This, DoT said, had resulted in low or non-participation of telecom operators in the spectrum auctions in November 2012 and March this year.

A recent note based on the audit said telecom companies such as Bharti Airtel and Idea Cellular had demanded additional spectrum, based on subscriber-linked criteria for meeting the quality parameters of the Telecom Regulatory Authority of India before the spectrum auction decision was taken.

However, they had declined to take part in the auctions, which negated their own positions on spectrum requirement.

According to the audit report, telecom companies had either used spectrum extremely efficiently -- through better technologies, more towers and smaller cells -- or they were compromising with the service standards set by Trai.

It was also possible inaccurate data in service reports by telecom operators or service providers could have represented inflated data on their subscriber bases, the report said.

The audit report said while one service provider had been catering to 9.1 million subscribers, with 10-MHz spectrum in the Delhi telecom zone, another operator had been serving 2.6 million users, with 12.4 MHz of spectrum (6.2 in 900 MHz and 6.2 in 1,800 MHz band), even as a third was serving 2.85 million subscribers, with merely 4.4-MHz spectrum in the 1,800
MHz band.
'Bharti may be inflating figures'
It added DoT had to ensure all operators strictly adhered to the licence agreement conditions in maintaining the quality of service standards and no deviations should go unnoticed.
The standards set by Trai could be re-looked to ensure authentic reports of the quality of service, it said.
Subscriber figures indicated by Bharti Airtel might either be inflated or these were home-location-register figures, not visitor-location-register figures, the report said.
The report said the rise in subscribers in semi-urban and rural areas, where there was no shortage of spectrum, could be more.
It added the process in the audit and assessment of the quality of service by Trai didn't provide any assurance that service providers were providing good service and meeting all benchmarks in the service areas.