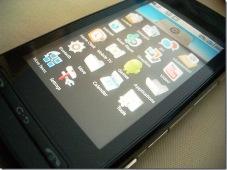 Online search giant Google's operating system (OS) for the mobile platform, Android, is fast gaining ground in the US. However, in India, Android trails with a single-digit market share.
According to National Purchase Diary (NPD), a leading North American market research company, Android-based handsets accounted for 28 per cent of all smartphone shipments in the US in the first quarter (April-June 2010), dislodging Apple iPhones, which had a 21 per cent market share.
However, it is way behind Research in Motion (RIM) - the maker of the Blackberry smartphone with a 36 per cent market share.
In India, while the Symbian OS continues its dominance in the market with over 70 per cent share, followed by RIM and Windows Mobile, Apple's iPhone and Google's Android trail the market, say telcos and analysts.
However, industry insiders believe it's early days and the metrics could change by late 2010 or early 2011.
"Android phones were launched just six months ago in the country and we estimate that by the first quarter of 2011, Android devices should overtake at least the Apple iPhone user base in India and record further growth in the smartphone market," says Naveen Mishra, lead analyst (Mobile Handsets Research), IDC India.
Motorola, Samsung, Sony Ericsson and HTC launched 10 Android-based handsets in India, with prices starting at Rs 12,000.
A smartphone runs on an operating system that allows it to operate productivity applications, such as the BlackBerry OS, Android or Windows Mobile. A featurephone, on the other hand, has less computing power than a smartphone.
IDC believes Android will be a probable choice for users who are looking to replace their handsets, instead of first-time buyers.
"Since Android phones are essentially smartphones, we see this demand coming from urban areas from users who have used mobile internet or apps on their feature phones." The handset replacement market is pegged at around 300 million units.
With a base of around 24.7 lakh smartphone users in the country (according to IDC data), the launch of 3G services is expected to double the market size. Meanwhile, competitive pressure from competitors such as RIM, Apple and Android, and the continued weakness of Nokia's high-end device sales, have negatively affected Symbian's share, believes research firm Gartner.
Anshul Gupta, a telecom analyst at Gartner, opines: "The Android OS is too fragmented with different devices running on different versions. Google needs to address this and unify the platform."
Google, meanwhile, is said to be working to address the stability and unity of its OS. The next release of the Google OS, 2.2, promises significant performance gains and aims to reduce fragmentation, early tests indicate.
Gartner maintains Android-based devices will see an increased uptake in 2010 as more manufacturers launch Android phones across price ranges but some manufacturers have expressed growing concern about Google's intentions in the mobile market.
Anurag Kontu, head of marketing for Sony Ericsson, India, says Android phones are going to get some serious attention in 2010. "The open nature of Android platform gives us the ability to deliver customised and need-based applications over the mobile platform to users - a feature that is much desired by the youth."
Sony Ericsson, which recently launched Android OS-based Xperia X10, has aggressive plans to market its products this year. The brand has already roped in Bollywood actor Kareena Kapoor to endorse its Xperia X10 phone. Kontu said a "couple of Android-based phones" are set to hit the market this year.
Other manufacturers like Samsung, LG, HTC have also indicated they will launch several Android-based mobile phones but are eager to maintain the premium price tag of Android-based devices.
"Google's mobile OS allows customisation and signature applications that set one device apart from another. We have developed apps like Timescape (resides as primary user interface on Android OS) for Sony Ericsson devices that enhance the user experinece on Android devices," said Kontu.
Shiv Putcha, principal analyst, Ovum, agrees that Android devices may not shed their price tags any time soon. "Considering there are no big volumes for domestic Android handsets, it will be unreasonable to expect manufacturers to shed prices on their Android devices."
If such concerns cause manufacturers to change their product strategies for Android-based devices, it could hinder Android's growth in 2010, said Roberta Cozza, principal research analyst at Gartner.