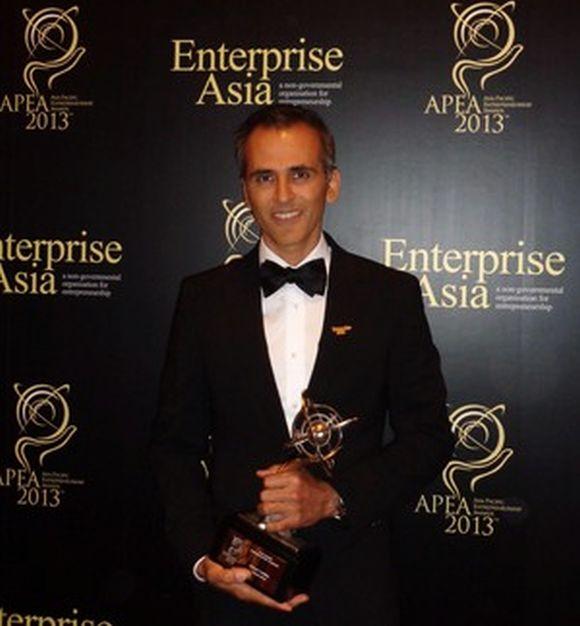 Photograph: Courtesy, Enterprise Asia
'Gather the shrimp and the whales will come,' was a line that Alibaba's founder Jack Ma used often in the early years of the Chinese e-commerce giant.
Sanjay Varma, an Indian who joined the company soon after it was founded in 1999 as its head of business development, recounts that Ma used the phrase to emphasise the company's strategy.
Ma's plan was to connect multitudes of Chinese small sellers with big buyers in developed markets such as the US and thus facilitate international trade.
Fast forward to 2014 and the business plan couldn't have succeeded more spectacularly.
The Chinese e-commerce company managed to awe the whales of the Wall Street when it went for an initial public offering last week. Alibaba famously raised an eye-popping $25 billion dollars.
Varma worked directly below Ma and Joseph Tsai (the Taiwanese American who was chief operating officer then and is now vice-chairman of Alibaba) and, as a vice-president in charge of business development, was number three in the pecking order.
Varma says that Alibaba showed all signs of possible success from the beginning. What worked in favour of Alibaba was Ma's uncanny sense of timing - be it of the launch of the company, its diversifications and indeed of the IPO itself.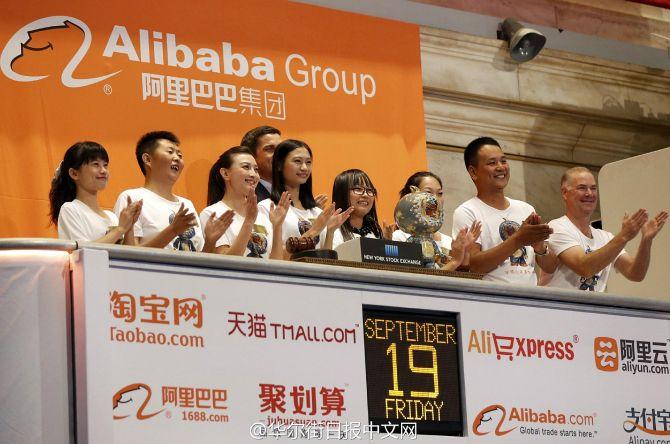 Alibaba employees applaud as the opening bell of the New York Stock Exchange is rung, before the initial public offering (IPO) of Alibaba Group Holding. Photograph: Lucas Jackson/Reuters
Alibaba decided to go public just as some analysts were questioning whether valuations of e-commerce firms were becoming absurdly optimistic.
Varma met Ma for the first time at an Internet conference in Hong Kong, where Varma's family has a trading business.
"I heard him speak and had the fortune of meeting him in person. We hit it off instantly," says Varma who was born in Patna in 1968.
His paternal grandparents moved to China in the early twentieth century and then to Hong Kong in the 1930s.
Alibaba was at that time just a business-to-business platform where international buyers of products could connect with Chinese suppliers. "I saw how remarkable his idea was, but he didn't know how to monetise the platform. He didn't come from a trading background."
Varma, 46, had an unusual CV, including an MBA from ColumbiaBusinessSchool, trading experience in Hong Kong with his family business and a brief stint in Mumbai with McKinsey.
This mix was attractive to Alibaba, which was still trying to figure out its business model.
Varma was offered a position at the high table and joined as vice-president of business development when Alibaba was all of 20 employees - two senior people with the rest being engineers.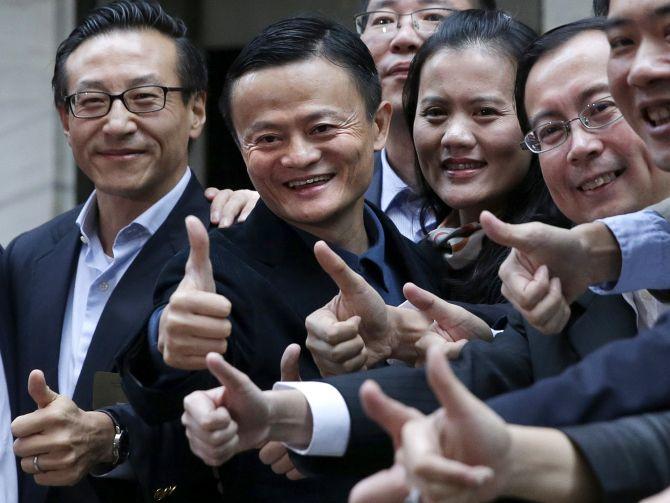 Alibaba Group Holding Ltd founder Jack Ma (2nd L) poses as he arrives at the New York Stock Exchange for his company's initial public offering. Photograph: Brendan McDermid/Reuters
The idea was to facilitate international trade by streamlining logistics, finance, payment, documentation for a small company which may not have the wherewithal to deal with banks or get the best deal from them.
The formula clicked. In 2003, Alibaba started Taobao to sell directly to the consumer. The company was just about to break even and selling directly to customers could have misfired.
"If you go to business school, the first thing that you are told is to focus on one thing at a time," says Varma. But, Ma just pressed the button and went ahead. "He said, 'it's now or never'. You need guts for that."
Two years later, the company launched a payment channel - Alipay. Though it quickly became the heart of all online ventures under Alibaba, this was another risk that Ma took.
Varma says Ma is a workaholic who is, "always questioning if he is doing the right thing and forever looking for new opportunities."
Ma was lucky as well. The timing of his first launch coincided with the Internet take-off in China.
In addition, China had begun another wave of massive economic reforms ahead of joining the World Trade Organisation. But Ma also timed his own decisions with foresight.
If the Taobao and Alipay launches were critically timed, so was a $20 million investment from Softbank in 2000 and an infusion of $1 billion from Yahoo.
"He is a great communicator with an amazing power to convince," says Varma. Soon after starting out, Ma managed to get the first infusion of capital from Goldman Sachs, which invested $5 million in the company in 1999.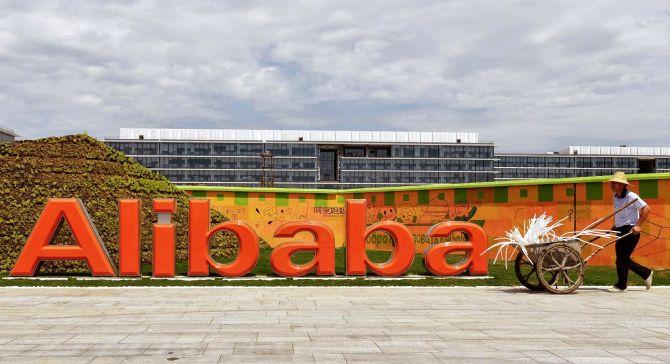 A worker walks past a logo of Alibaba Group at its headquarters. Photograph: Reuters
At a cocktail party held in October 1999 to celebrate the launch of an Alibaba Hong Kong site, Ma's speech that evening contained several references to Yahoo and Amazon. "The internet is a 3-km race," Ma was quoted by the Financial Times as saying. "American companies have only won the first 100 metres."
In retrospect, the statement almost seems prophetic. After its listing last week, minus the Alibaba stake, Yahoo's standalone market capitalisation is zero.
Varma remembers that in the early days Alibaba was often called the next Yahoo. Of course, it sounds "funny" now. But, it is a parable of business. "What is king today could be nothing tomorrow," Varma says.
Even though Alibaba is shining in its post IPO glory, Ma may have a challenge at hand integrating the many acquisitions made by him across the US and Europe.
"Integrating them into one platform may be difficult as there could be a culture gap," says Varma.
However, the vast amount of transaction data they are accumulating on companies and individuals gives Alibaba competitive advantage that will keep it ahead of the rest, says Varma.
According to Bloomberg, Alibaba is valued at $231.4 billion after the IPO, making it larger than US rivals Amazon and eBay combined, as well as Facebook, JPMorgan Chase and all but 10 companies in the Standard & Poor's 500 Index.
The astounding success of Alibaba has led to optimism about the Indian e-commerce industry touching a new high and has spawned several comparisons with home-grown e-commerce companies.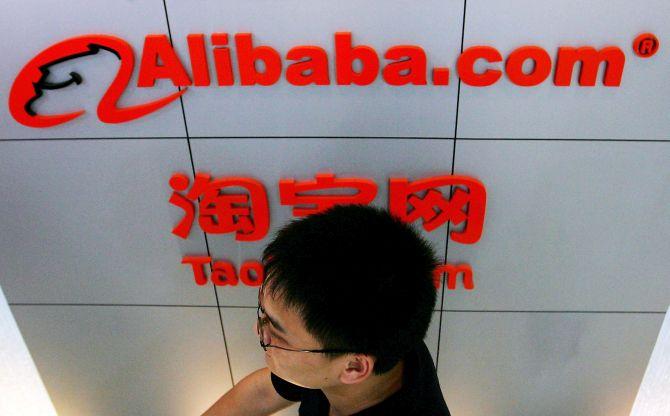 A man walks past the logo of Alibaba (China) technology. Photograph: Guang Niu/Getty Images
Varma says that even by 2020 India's e-commerce industry's revenues ($50 billion) will be less than a tenth of China's (which will grow to $600 billion). But he feels India should learn some lessons from China.
People took to buying online since it was expensive to buy from brick-and-mortar companies, plus there are major traffic and other infrastructure issues pertaining to offline retail. India shares some of those concerns.
Varma says that streamlining the payment system (most of e-commerce in India is based on cash), making deliveries faster, and ensuring more trust in the system will help the country's e-commerce industry.
"The good thing is that the smartphone is creating access, so it won't be surprising if India jumps directly from basic retail to e-tail," says Varma whose understanding of the subject comes not only from his experience at Alibaba but also from his investments in a few Indian and US startups.
Varma left Alibaba in 2002 to become an entrepreneur himself and now runs a non-Internet firm, JMATEK, which is a licensee of Honeywell products.
When he joined Alibaba, he was offered stock in the company - some of which he sold early on. Varma won't reveal how many shares of Alibaba he continues to hold.
Despite Varma's own spectacular career (he won the Asia Pacific Entrepreneur of the Year award of 2013 conferred by Enterprise Asia) does he regret leaving Alibaba? "Yes, there have been times, but there is nothing like being your own boss," he says. Perhaps Varma, too, is gathering the shrimp right now.
Ma's Man
Sanjay Varma joined Alibaba soon after it was founded in 1999 as the firm's head of business development
Alibaba was at that time just a B2B platform where international buyers of products could connect with Chinese suppliers
Varma met Jack Ma for the first time at an internet conference in Hong Kong, where Varma's family has a trading business
Varma left Alibaba in 2002 to become an entrepreneur and now runs a non-internet firm, JMATEK, which is a licensee of Honeywell products