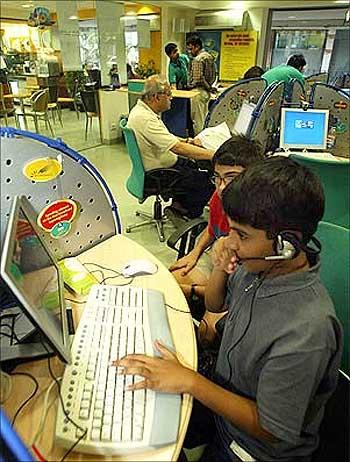 Telecom operator Reliance Communications and Facebook on Tuesday announced a tie-up to provide free access to 33 websites - an initiative that aims to encourage more people to use the Internet.
These websites are across eight categories-- social media, news, career, education and knowledge, sports, health and social welfare and search engine Bing.
"About 70 per cent of people in India don't have access to Internet. We need to connect a billion people to the Internet. We are happy to announce that with Facebook we will offer free access to 33 popular websites," RCom Chief Executive Officer for consumer Business, Gurdeep Singh said.
The free websites include Facebook, ecommerce portal OLX, Cleartrip, TimesJobs, Babajob and sports website ESPN Cricinfo.
The service has been initially launched for Reliance customers in Mumbai, Maharashtra, Gujarat, Andhra Pradesh, Chennai, Tamil Nadu and Kerala.
"We are committed to launching it on pan-india level within 90 days," Singh said.
Facebook CEO Mark Zuckerberg in a video message said that last year his organisation had rolled out Internet.org free basic services to countries with more than 150 million people total across Africa and Latin America and more than 6 million people, who were not connected to the Internet, are now connected with it.
"But to continue connecting the world, we have to connect India. More than a billion people in India don't have access to the Internet. Today's announcement is just one step towards changing that," Zuckerberg said.
He said Internet should be made affordable for people. The companies did not disclose as to who will bear the cost of data that Rcom customers will access free of cost.
Singh said that we need to see at larger goals of connecting more people. "Once they mature as Internet users, they will give us pay back," Singh said.
Vice-President of Internet.org at Facebook Chris Daniels said that they are looking for more partners to join this initiative so that more people can be brought on Internet.
"We are looking for more partners to take this initiative to more people," Daniels said.
Reliance customers can access these websites with zero data charges at www.internet.org, or in the Internet.org Android app.
Most of the services will be available in English, Hindi, Tamil, Telugu, Malayalam, Gujarati and Marathi, to begin with.
Andhra Pradesh government has also incorporated its e-governance portal AP Speaks as part of this project to interact with people in the state and improve governance.