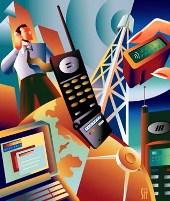 Telecom major Reliance Communications expects 30 per cent annual growth in revenues and profitability from its enterprises division over the next five years.

RCom on Friday announced appointment of Deepak Khanna as CEO, India Enterprise Business.

"Reliance is ideally positioned in the enterprises domain, already serving over 45,000 large,
medium and small enterprises in India.
"We expect to register 30 per cent per annum compounded growth in this space in both, revenues and profitability over the next 5 years," Khanna said in a statement.
He has experience of 25 years of which the last 15 years have been in the telecom sector, RCom said in a statement.
He has also worked rival Bharti Airtel. He moved from Airtel in 2011 and joined Tulip Telecom as President of the company.