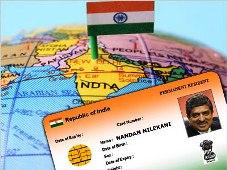 The Reserve Bank of India paved the way for using Aadhaar biometric authentication to transact with cards at automated teller machines and merchant terminals.

Announced at the second-quarter review of monetary policy, the move would make transactions at automated teller machines and point of sale terminals (PoS or merchant terminals) more secure.

RBI said: "One recommendation of the working group (with Gowri Mukherjee as chairperson) formed for securing card-present transactions was that banks could consider the Aadhaar biometric authentication, along with the MagStripe (magnetic stripe), as an additional factor of authentication for card-present transactions at ATMs and POS terminals."

Card-present transactions are those where cards are swiped into a machine or reader.

The central bank also said a pilot project using Aadhaar as an additional factor of authentication for card-present transactions had been scheduled in Delhi from November 15.

"Based on the outcome, further steps would be taken by the Reserve Bank," the
policy says.
The government wants to maximise the presence of Aadhaar-based authentication system in the financial system. Prime Minister Manmohan Singh had launched a nation-wide Aadhaar-based payment system for transfer of subsidies and entitlements from Dudu, Rajasthan, this month.
He's also created, under him, a national co-ordination committee to expedite implementation of a direct cash transfer mechanism.
The architecture of an Aadhaar-based national payment system was also announced recently, to support the creation of this framework across the country.
In various pilot projects in districts, opening of bank accounts, payments associated with the rural job guarantee scheme and pensions, and cooking gas subsidy distribution are among the areas being tested for cash transfers through the Aadhaar-based payment.
Giving mobile connections with the help of Aadhaar-based online authentication has also been started at some places.
Enrolment for Aadhaar numbers has crossed 240 million.
It would cross 600 million by 2014, according to the Nandan Nilekani-led Unique Identification Authority of India.