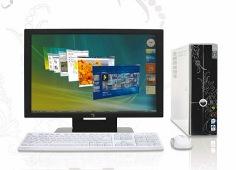 Haven't you always wanted your desktop to look like your liquid crystal display television, or those ungainly cords and wires to vanish from sight?
Major PC (personal computer) manufacturers like Apple, HP, Lenovo and Acer have been listening to you.
They have introduced sleek machines which do away with the traditional cabinets that housed the CD, USB slots, motherboards, fans and processors.
Instead, they've come out with a single-stop PC solution which is based on the same theme as the Apple's iMac.
It hides the central processing unit and other electronics behind the display. All that the user sees is the screen, a cordless keyboard and mouse.
Aptly christened all-in-one PCs, these machines take up 70 per cent less space than traditional desktops, and are designed such that customers can pull them out of the box, plug them in and have them ready to work in under five minutes.
Statistics reveal that laptops are outselling desktop PCs. In the July-September quarter last year, notebook PC sales zipped past the 700,000-mark in a single quarter.
Analysts believe that the all-in-one desktop PCs can give the declining desktop PC market a boost.
Lenovo, for instance, has been especially bullish in the AIO segment, aiming to strengthen position with the Lenovo IdeaCentre A600 (at Rs 57,990), Lenovo C300 (starting at Rs 22,490) and Lenovo C100 (starting at Rs 22,990).
Just this month, Lenovo rolled out two more PCs in this segment, namely the Lenovo IdeaCentre A300 and Lenovo IdeaCentre B500.
Alex Li, vice-president (Transaction Business) of Lenovo says: "AIOs simplify user's computing experience addressing the limitations of the conventional desktops by being an integrated unit packing in the traditional tower desktop, screen and peripherals like the camera, speakers and microphone."
Lenovo, this year, is looking to provide diversity by introducing AIOs across every price band to help expand the market.
Vendors consider if they are not offering an all-in-one, then it means walking away from the desktop market, which is the larger piece of the PC segment in India.
Ketan Patel, country manager (Consumer Desktop PCs), HP India has no intentions of missing the bus. HP is aiming to target 20 per cent of its PC business revenues from AIO products this year.
"We have three models in the AIO category, with prices starting at Rs 36,000 and going up to Rs 89,000. We would launch around three new AIO products, bridging the price gaps in our AIO portfolio," says Patel.
The overall PC market (includes notebooks and desktops), notes an IDC report, is dominated by HP with its 17.1 per cent share, followed by Dell at 11.3 per cent and Acer trailing a close third with its 11.1 per cent.
But all this activity in the AIO category might not exactly be the signal of good times to come, qualify analysts. Sumanta Mukherjee, lead PC analyst, IDC India explains: "All-in-one PCs are designed to target urban, upper middle class families who place a premium on space and aesthetics.
"Hence, all-in-one PCs are expected to serve niche markets and not likely to be a 'game-changing' offering."
Indeed, AIOs have been out of reach for most consumers due to their higher price tags. Vendors like Asus, however, think the category could take off if products are launched in the mass-market range of Rs 40,000-Rs 50,000.
Stanley Wu, country head (Eee PC and Notebook Business), Asus India, says: "When netbooks were launched, it took time for them to gain specific market all over. A similar phenomenon is happening with our AIO product, the Eee Top PC."
Asus' Eee Top, a hit among consumers from Tier-II and
Tier-III towns, took Wu by surprise. "We are seeing AIOs slowly gain acceptance in institutions and even the SoHo (small office/home office) segment." This year, Asus is expected to launch new and improved AIO PC products that would not pinch pockets.
Even Acer, which has two touchscreen-based AIOs starting at Rs 34,999, believes it has to thank the urban consumer who opted for these one-box PC solutions.
S Rajendran, chief marketing officer of Acer (India), says, "We have witnessed strong initial demand for our AIOs across Mumbai, Bangalore and Delhi. In some ways, the AIO segment is redefining computing aspirations of users in Tier-I/ Tier-II markets."