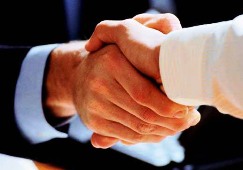 NDTV, a publicly held national broadcaster straddling news and entertainment segments with a bouquet of channels, is understood to have put one of its channels -- NDTV Hindu -- on sale.

The channel is an equal joint venture between NDTV and Chennai-headquartered newspaper group The Hindu.

NDTV Hindu, which kicked-off in mid-2009, was Chennai's first city-specific English news and entertainment channel.

According to two investment bankers close to NDTV, the two-year old channel has been put on the block as the revenues were low and the viewership, too, did not pick up in a market which has more than 100 region-specific channels to fight with, though almost all of them in the local language -- Tamil.

"It is a very competitive market with numerous channels fighting for the advertising pie and viewership. NDTV Hindu is finding it difficult to plough through," a banker close to NDTV said.

NDTV, chose not to comment on what it called market speculations. Bankers, without revealing names of possible suitors, indicated a couple of media houses, which are strong in the regional space, are evaluating options to acquire the channel.

When contacted, The Hindu group editor N Ram said NDTV has been authorised to speak on the joint venture.

NDTV Hindu was launched on the belief that the future of news is going to be local, but seems to have misjudged
the aspect that it will be in the local language and not necessarily English.
The regional media in India has been growing at an astonishing pace and many a regional media house is being wooed by investors, both public and private.
NDTV had launched its Chennai-specific English channel, two years after it launched NDTV MetroNation, a New Delhi & National Capital Region focused English channel in 2007. MetroNation, however, is still chugging along.
If the move to sell NDTV Hindu fructifies, it would end a measured diversification by the century-old The Hindu group into the television space.
Senior officials in The Hindu group, requesting not to be quoted, said they have given the joint venture time till end of August 2011 to either sell or close the channel.
NDTV, during the launch, had hoped that marketers will bite into the channel by offering the advantage of them (advertisers) creating a national campaign and tailoring it to the needs of different cities to suit regional tastes and preferences.
It was also looking at the expansive advertising loyalty which The Hindu enjoys and was looking at bundling the print and television offerings.
According to information available with investment bankers, the channel has been a pretty low-cost operation, but could not make much headway in the Chennai market.
NDTV had further indicated that they might be looking at half a dozen city channels, but that has not happened.