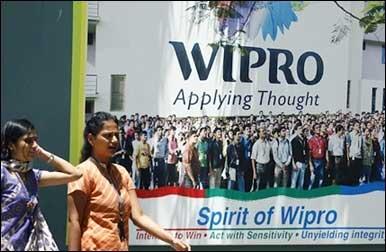 It seems there is no end to the churn of the senior management at Wipro. Buzz within the firm suggests that a senior executive at the Bangalore-based IT services firm have put in his papers, said two sources close to the development.

Ashutosh Vaidya, head, Wipro BPO Solutions, have put in their papers, said the sources. The reasons for the resignations could not be confirmed.

When contacted, a company spokesperson said, "Wipro does not comment on market rumours and speculation." When contacted, Vaidya too, declined to comment on the resignation.

Vaidya's departure from the company would be a crucial move, as he headed the fast growing BPO unit of the IT services firm. The moves follows some of the recent senior exit that the firm has seen since the decision to do away with the dual chief executive officer (CEO) model. The joint CEOs, Suresh Vaswani and Girish Paranjape, left the company, after the firm appointed T K Kurien as the CEO.
Vaidya has spent over 13 years at Wipro and has handled multiple responsibilities in diverse businesses. BPO Solutions is a rapidly growing business line at Wipro. Its contribution to the company's revenue for 2010-11 was 9.7 per cent. Vaidya was also giving shape to the company's vision of crossing the figure of $1 billion in revenues and was working towards expanding the business unit into locations from Shanghai, China to Curitiba, Brazil.
Analyst tracking the company feel the resignations could be due to the recent restructuring that the firm has undergone. "In any organisation, after a rejig, there are always a few exits. Wipro too, is undergoing this. Vaidya moving out would be a big move. But hopefully, the company should get someone for this role," they said.