Indian companies realise several business opportunities ahead of International Yoga Day on Sunday
The Nasdaq-listed Lululemon Athletica is an epitome of an opportunity lost by Indian corporate houses. The Canadian firm, which sells yoga-inspired athletic apparel, is valued $9.42 billion (Rs 60,000 crore) on the popular US bourse.
Last year, the United Nations declared June 21 would be celebrated as yoga day, after Prime Minister Narendra Modi called for it in his maiden speech to the international body. With the PM spearheading the celebration of the first International Yoga Day on Sunday, many corporate houses have lined up to endorse it.
"Yoga has popularly evolved as a common denominator for global wellness," says C P Gurnani, managing director and chief executive at software exporter Tech Mahindra. "A sight of an office-goer carrying a yoga mat isn't limited to a geography or demography," he says.
Ahead of the event, Tech Mahindra is seeing branding and employee engagement opportunities. It has opened kiosks at the Changi international airport in Singapore, as well as the Newark and JFK airports in the US, to organise yoga sessions for international travellers to help them de-stress. This is a three-week promotion the company is carrying out, besides employee-engagement events that might continue through the year. The company has also roped in its corporate social responsibility arm to develop a web portal to support the event.
Similarly, the Zee group's media and entertainment companies, which run a bouquet of television channels globally, have seen a business opportunity in the event. "As the excitement around International Yoga Day builds up, we have lined up a range of yoga-based activities to engage with our viewers across the world," says Punit Goenka, managing director and chief executive, Zee Entertainment Enterprises Ltd.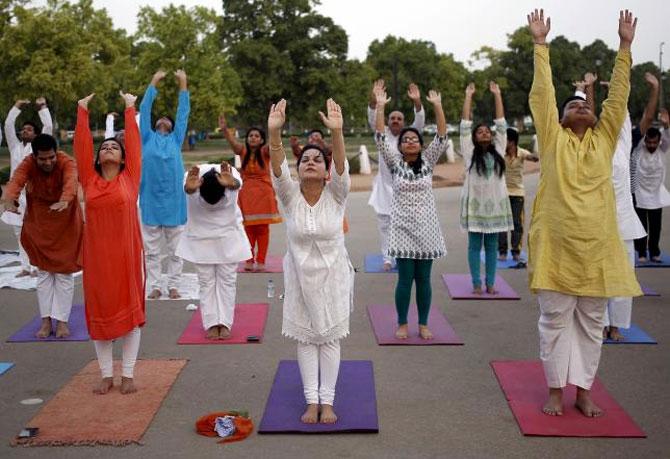 The group's channels and brands will feature yoga content integration, expert advice from yoga gurus, useful trivia, celebrity bytes and yoga cuisine, among other interesting initiatives on Sunday. "Apart from this, the company is celebrating yoga week across all its offices, with employees participating in yoga sessions, assisted by instructors," Goenka says.
The Anil Ambani-promoted Reliance Capital is observing yoga week for its 2,000 employees, across businesses. "This initiative is aimed at encouraging our employees to adopt a healthier and balanced approach in life," says Pushkar Kataria, chief people officer, Reliance Capital.
Others from public sector firms such as Coal India and State Bank of India plan to conduct yoga sessions for their employees on Sunday.
While there has been no dearth of followers from India Inc for PM Narendra Modi's calls, be it 'Make in India' or 'Digital India', there's a world of opportunity for Indian companies in realising the business opportunity provided by yoga.
Photograph: Reuters