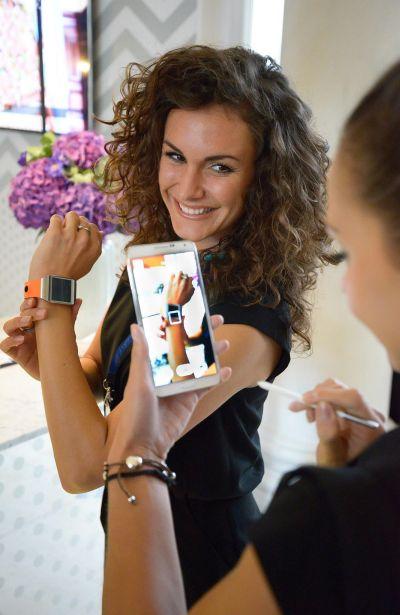 Chipmaker Intel, which last week announced a partnership with watches and fashion accessory retailer Fossil Group to develop wearable devices, is scouting for manufacturers to launch such devices in India.
Debjani Ghosh, the company's South Asia managing director, said the devices might be enabled with a security feature and targeted at women.
"If India is ready for smartphones, it is also ready for wearables; but you have to make it relevant for India," she told Business Standard, adding wearables could play a significant role in resolving key issues facing the country, such as security.

"We, women, don't have pockets, which means our smartphones are not always with us. What if you had a bangle or a wrist watch with built-in capabilities that you could press during a panic situation?"
She said while globally, Intel had some tie-ups in this area, it was exploring options in this regard in India. "We are very interested in this segment," she added.
Juniper Research says global wearable computing device shipments are expected to rise from 15 million units last year to 150 million units by 2018.
The market in India, however, is much more niche. Vishal Tripathi, principal analyst with Gartner India, said though smart watches and wrist bands were gaining popularity, these were expensive for the Indian market.
"If offered at an affordable price, smart watches and wrist bands might succeed, but luxury product might not see a lot of adoption in India," he said, adding wrist watches and fitness monitors were seeing interest from a niche audience.
In India, companies such as Nike and Samsung offer products in this segment.
On Monday, Apple Inc forayed into the wearables segment, with the launch of the Apple Watch, priced at $349. The device, to be available next year, will have the capability to respond to messages, control music and access maps. It will also have health-tracking and fitness applications.
In a digital consumer technology survey by Accenture, half the respondents expressed interest in buying smart watches, while about 40 per cent were interested in wearable eyeglasses.

"This is remarkable because the products are, for the most part, not commercially available. The interest in wearable technology underscores the growing consumer desire to be more digitally connected at all times," said a report based on the survey.
It added about 70 per cent of those surveyed were keen to use these products for vehicle navigation, home security, personal safety and health & fitness.