N R Narayana Murthy's return to Infosys comes at a time when the morale of the company's management is at an all-time low. Despite efforts to return to the growth path, the company hasn't been able to do so, disappointing the market, as well as investors.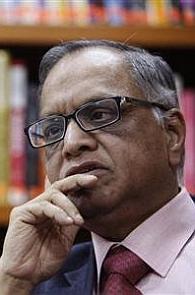 It is losing market share and profitability. It has also lost control over business predictability, something it was best known for.

According to a recent report by analyst firm Gartner, last year, Infosys's growth was the slowest among most offshore-centric IT services companies that had a similar model.

The company recorded mere 6.6 per cent growth in 2012, lower than Bangalore-based Wipro (7.6 per cent growth). In comparison, Cognizant reported revenue growth of 20.1 per cent, HCL Technologies 18.1 per cent and TCS 15.2 per cent.

While Infosys managed to retain global market share at 0.7 per cent in 2012, both TCS and Cognizant improved market shares by a percentage point each to 1.2 and 0.8 per cent, respectively.

In the last two years, the company disappointed many a times. In the quarter ended March, its operating margin stood at 23.5, 300 basis points lower than that of TCS.

The company's slide, however, wasn't sudden; it unfolded through the last two to three years.

Industry observers believe much of the company's current condition can be attributed to the timing of the leadership change and the internal restructuring after the retirement of Narayana Murthy. Many also feel the company failed to identify the changes in the market place ahead of time, and adapt to those.

This is said to be the reason why despite having all positives for driving the company in the changed business environment, the Infosys 3.0 strategy hasn't
been able to deliver meaningful results so far.
When he brought in Murthy as executive chairman, outgoing chairman K V Kamath, for the first time, acknowledged the state of affairs at Infosys.
The changes were a reflection of the company's "duty of care" towards its stakeholders and the external and internal environment, he said.
Market analysts say Murthy's second innings at Infosys comes at a time when the company is grappling with too many challenges - inside the company, as well as outside it.
In about two years, the company has seen two transitions - a change in leadership and strategy. "In any transition, there is pain.
The fortunes of Infosys aren't going to change overnight; it will take at least seven to eight quarters. There is no magic wand in the hands of Narayana Murthy to change fortunes," said Sanjeev Hota, IT analyst at brokerage firm Sharekhan.
The last time Murthy was in any executive role in the company was in 2006, when the market conditions were different and there was natural growth. Murthy seeing success in his second stint wouldn't be as easy a task as some believe.
It might help bring a positive sentiment and control increasing anxiety among customers and shareholders, though the "fundamental problem of changing company's business model would remain," said Manish Bahl, vice-president and country manager of research and analysis firm Forrester.
"I believe Murthy will be more focused on putting the company's strategy to work, rather than making too many changes within/for the organisation. Moreover, considering the conservative view of the company's board, we shouldn't expect many bold decisions on foreign acquisitions and bringing people from outside as part of the management, among others, in the near term," he added.