Overall attrition jumped to 20.6 per cent in the quarter, a 400 basis points rise over 16.6 per cent in the earlier quarter.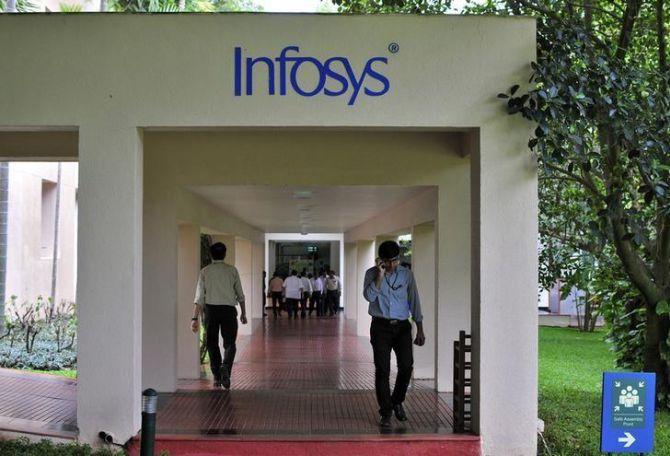 Information technology major Infosys saw more numbers of high performers leaving in the April-June quarter, apart from exits in the senior executive category.
However, says the company, it is confident of bringing down this attrition to normal levels in subsequent quarters.
The country's second largest IT company saw two seniors exit in the period.
Sangita Singh resigned while head of its health care vertical, to join IBM's global business services division as a general manager of cloud consulting services, Nitesh Banga, its global head of manufacturing business, quit to subsequently join as chief operating officer (COO) at GlobalLogic.
"Attrition at the senior level is low. We have had a couple of exits in the recent past but have a strong leadership bench (people to step in)," said U B Pravin Rao, the COO, to analysts after announcing the quarter's results.
"These exits give people at the next level the opportunity to step up and we have already identified replacements for the two people who left."
The Bengaluru-headquartered company underwent much leadership transition in the past year.
Overall attrition jumped to 20.6 per cent in the quarter, a 400 basis points rise over 16.6 per cent in the earlier quarter.
This is also almost double the level of its larger sectoral peer, Tata Consultancy Services, at 10.9 per cent in the quarter.
''Part of the attrition is seasonal. In Q1 (the June or first quarter), you typically have a big per cent of people going abroad for higher education. Nevertheless, it's probably higher than what we've seen in the past," said Rao.
According to the company, a big chunk of the attrition is from people with two to four years of experience.
"We have seen a higher number of high-performer attrition. In past quarters, the attrition level from high performers was lower and, in that sense, this quarter was an exception. We have identified certain interventions to check that and are confident of bringing it back to normal levels," said Rao.
Infosys says it continues to conduct major recruitment drives and added 17,709 professionals at the gross level during the June quarter.
On the interventions, Rao said much had been done over recent quarters.
"We rolled out a wage hike for 85 per cent of our employees effective April. We have also given 100 per cent of variable pay in the past couple of quarters. There is a lot of focus on re-skilling and training and so on."
In April, Infosys said it had created a special bonus pool of $10 million (Rs 68 crore) to be paid to its 200,000-plus employees, in addition to their regular quarterly variable pay, to check the high level of employee exits.
Photograph: Abhishek N Chinnappa/Reuters