The openness that made IT services outsourcer Infosys Ltd an investor darling has come back to haunt it.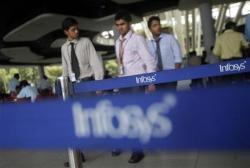 For years, Infosys was an industry bellwether for not just giving revenue and earnings guidance but usually exceeding it, making it an outlier in a country where very few companies offer guidance and corporate transparency is often lacking.

But several times in the past two years, Infosys has missed its own forecasts, precipitating violent stock moves that culminated in a 21 per cent plunge on the day of its most recent earnings report.

This has prompted some in the market to question whether the company should keep giving guidance.

"Considering that the company is unable to meet guidance, the very act of giving guidance is becoming a reason for volatility," said Jagannadham Thunuguntla, head of research at brokerage SMC Global Securities in New Delhi.

Its latest results came with a new growth forecast that was below analyst expectations, and the one-day stock plunge was the biggest in a decade for Bangalore-based Infosys.

Only three months earlier, an unexpectedly strong December quarter sent its shares nearly 17 per cent higher on the day and raised investor hopes for a turnaround.

Growth at Infosys, the No.2 Indian player by revenue, has lagged rivals as it struggled to implement a strategic revamp amid difficult conditions for its clients in the United States and Europe.

"We think Infosys would have been better off not giving FY13 guidance than give one which lends itself to the worst possible interpretations," JP Morgan analyst Viju George, based in Mumbai, wrote shortly after Infosys' earnings report for the year that ended in March.

In July, Infosys slashed its full-year dollar revenue target and stopped giving quarterly revenue or earnings guidance.

For the fiscal year that started this month, Infosys forecast revenue growth of 6 to 10 per cent in dollar terms, a wider range than the 1 to 2 percentage points it typically gives and less than the 12
per cent growth expected by several analysts.
"By giving revenue guidance so wide so as to render it meaningless and by refusing to spell out a floor for FY14 margins and, particularly, by stating that it cannot predict margins in the near term for its business, management has played to the street's worst fears," George wrote.
Golden Silence?


Infosys is not the only IT company to disappoint with its outlook. Shares in third-ranked Wipro Ltd lost 8 per cent after its March quarter earnings met forecasts but its revenue guidance for the current quarter lagged market expectations.
Industry leader Tata Consultancy Services Ltd does not give specific guidance, but has said it expects its revenue will grow faster than the industry trade group's forecast this fiscal year.
Infosys and some analysts argue that the company has a hard time forecasting revenue because a significant chunk of corporate customer spending on its services is discretionary.
Chief Executive S. D. Shibulal told analysts after the latest earnings announcement that it had become harder to make quarterly predictions in a volatile environment. Still, he said, "the rationale for guidance is not changed."
Outside the IT sector, only a handful of companies, including Ranbaxy Laboratories Ltd, the country's top drugmaker by sales, and leading construction and engineering company Larsen & Toubro Ltd give revenue guidance.
Several investors said Infosys should keep giving guidance.
"If they stop giving guidance and still deliver this type of numbers, then it will be even more negative," said Phani Sekhar, a fund manager at Angel Broking in Mumbai, which owns Infosys shares. "The best thing for them right now is to match up to whatever they have said."